The Leftovers New Trailer Reveals The Sounds Of Silence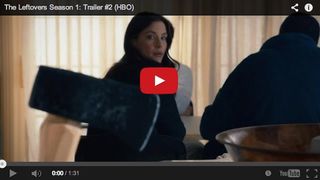 "Hello Darkness, my old friend..."
The latest preview for HBO's series adaptation of Tom Perrotta's The Leftovers draws a bit from Simon and Garfunkel in the form of "Sounds of Silence" as the song behind the video. The new trailer begins with a prayer. It's a prayer that not everyone seems to be interested in participating in. And that's kind of a perfect indication of the divided state of humanity in the aftermath of the Rapture-like event that has left people stricken with grief and confusion.
The Leftovers comes from Damon Lindelof and author Tom Perrotta and follows the remaining 98% of the human population that's left behind when the other 2% just up and vanishes into thin air. That 2% includes children and babies, husbands and wives, fathers and mothers, friends, neighbors, anyone. How do the leftovers deal with their loss? Some are just trying to have hope for the future. Others are praying. Some are joining cults. And some demand answers. The trailer shows us a Senator seeming angry and frustrated by the lack of findings about the situation...
You can see in the ticker at the bottom that "conspiracy theories multiply as scientists come up empty," and there's something about protests too.
The earlier ticker talks about "Statistical hiccups, not miracles." That seems like an even bigger hint of people's conflicting views on the whole situation, as scientists try to come up with an explanation for the disappearance of so many people at once, and the faithful begin to draw their own conclusions.
From there, it's a series of images and snippets, including a small town parade, a protest that gets out of control, people talking about hope, and others professing that it wasn't a rapture. We also see Liv Tyler, who plays Meg in the series, talking about things people want to forget, and Justin Theroux, who stars as Kevin Gavey, demanding someone to "please come home."
That brings us to the promising cast of The Leftovers. In addition to Justin Theroux and Liv Tyler, the series also stars Amy Brenneman, Christopher Eccleston, Ann Dowd, Michael Gaston, Charlie and Max Carver and Emily Meade.
HBO has The Leftovers set to debut on Sunday, June 29, the week following the return of True Blood. By that point, Game of Thrones will have wrapped up for the season. That still gives you a couple of weeks to read Perrotta's novel before The Leftovers premieres. Check out the previously released teasers for The Leftovers here.
Your Daily Blend of Entertainment News
Thank you for signing up to CinemaBlend. You will receive a verification email shortly.
There was a problem. Please refresh the page and try again.