True Blood Season 7 Gets A Fangy, Fighting New Trailer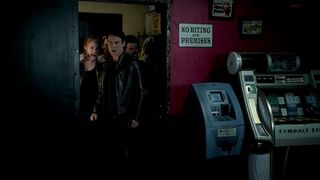 As Game of Thrones heads toward its final two episodes, HBO continues to ramp up the hype for the final season of True Blood, which takes over Sunday night later this month. The latest trailer for Season 7 of True Blood shows a celebration of life... and the inevitable assault on said celebration because it's Bon Temps and no one smiles there for long.
It actually looks like there are at least two celebrations of life going on in the new trailer. Arlene looks like she's living it up indoors here...
While this scene looks like it might be outside Bellefleur's.
Chaos appears to be ensuing one way or the other. Just remember, no biting...
Guess these people didn't see the sign...
On a more serious note, we have Alcide's eyes going all glowy...
And Bill telling Sookie he owes her everything. Can we trust him? I'm not sure how to interpret his smile, but it's hard to know where Bill's coming from these days. Maybe he really does want to be there for Sookie. Or maybe he has other motives. Maybe both. We'll have to wait and see.
In the meantime, the previously released episode descriptions give us a better indication of the threat that looms over Bon Temps in this seventh and final season of True Blood. That includes -- spoiler alert -- the unwelcome arrival of H-vamps at a vampire-human mixer at Bellefleur's. There's a good chance we're seeing some of that assault in the trailer above.
True Blood returns Sunday, June 22 at 9:00 p.m. on HBO. Check out the poster here.
Your Daily Blend of Entertainment News
Thank you for signing up to CinemaBlend. You will receive a verification email shortly.
There was a problem. Please refresh the page and try again.