Live Blog: 2008 Academy Awards Ceremony (Updated!)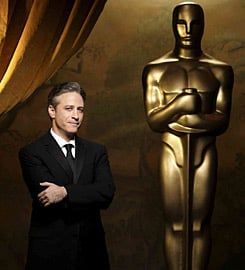 Fancy dresses, weepy speeches, dazzling performances and of course, the awards! Those are all just a handful of things I'm looking forward to as I watch the 80th Annual Academy Awards ceremony. I'll be covering all of that and more live as the event airs, so check in here for updated coverage on the winners, the speeches and everything in between! Also, feel free to weigh in with your own thoughts in our comments section below.
The batteries in my TV remote are surely significantly worn down from the constant switching back and forth between Seacrests' goofy red carpet interviews on E! and Lisa Rinna and Joey Fatone's equally goofy red-carpet gabfests on the TV Guide network. I've had my fill of "Who are you wearing?!" conversations and seeing things like Seacrest handling strange Gary Busey encounters - let's get on with the show!
8:30 p.m.: The event begins with an opening video featuring images and action sequences from popular films like Transformers, Pirates of the Caribbean, Star Wars, Grease, and a ton of other familiar films. Jon Stewart takes the stage and immediately makes a reference to the writers strike, which thankfully is over. He says, "Tonight, welcome to the make up sex." He follows this by a joke about Vanity Fair canceling their party out of respect for the writers despite the fact that they rarely invite many writers to the party. Moving on: he jokes about this year's Oscars being all about psychopathic murderers. Stewart then moves on to the brilliant performances this year and makes a joke about No Country's Javier Bardem's haircut.
Stewart notes the big stars in the audience, including Dennis Hopper. He switches over the writers, addressing Diablo Cody. He brings up her former career as a stripper and asks her how she's enjoying the paycut after switching to screenwriting. The crowd seems to be appreciating Stewart's monologue.
8:42 p.m.: Jennifer Garner takes the stage. She's presenting Best Costume Design. The first Oscar of the evening goes to Alexandra Byrne for Elizabeth: The Golden Age. Her speech was blissfully short. Then all of a sudden we're looking an Barbra Streisand reminiscing about winning an Oscar. Time filler, perhaps?
8:47 p.m.: George Clooney steps onto the stage and starts talking about the history of the Academy Awards and how unpredictable the ceremony is. And on to a montage of memorable Academy Awards Ceremony moments. Not sure if it's just an excuse to make us listen to Celine Dion's "My Heart Will Go On" or to remind us of what a huge deal this is for people in the film industry.
8:51 p.m. Stewart is back and playing with his iPhone. He introduces Anne Hathaway and Steve Carell. They're presenting Animated Feature Film although Steve (jokingly) seems to think he's presenting for Documentaries. Carell's hilarious. Has anyone seen Persepolis? That movie looks seriously weird. Surfs Up? Seriously? Ratatouille wins the award. No big surprise there. Brad Bird accepts the award and talks about a conversation he had with his guidance counselor about wanting to make movies. He moves on to thanking people and is eventually music'ed off the stage.
8:56 p.m.: Katherine Heigl is presenting for Best Make-up. She's surprisingly nervous as she reads off the nominees. La Vie En Rose wins.
8:59 p.m. And it's time for the first Best Song performance. Amy Adams takes the stage to sing "Happy Working Song" from Enchanted. This was actually one of the best parts in the movie and Adams sounds great singing it live tonight. It's too bad they couldn't work the pigeons and cockroaches from the movie into the act somehow. Then again, that probably wouldn't have worked out so well.
9:06 p.m.: Back from commercial and Dwayne Johnson (aka "The Rock") is up on stage presenting for Best Visual Effects. He jokes about having nightmares over the face-melting scene in Raiders of the Lost Arc. The Golden Compass wins it, beating Transformers and Pirates of the Caribbean (wow!). Another short speech as the four winners say their thank yous.
9:10 p.m.: On to Best Art Direction. Cate Blanchett presents the award. Sweeney Todd: The Demon Barber of Fleet Street takes the award. Dante Ferretti and Francesca Lo Schiavo accept their award with thick Italian-sounding (guessing) accents and eventually get music'ed off the stage.
9:13 p.m.: Finally we get an acting award! First we get a montage of a bunch of actors in previous Oscars accepting awards for Best Supporting Actor. Jennifer Hudson is on hand to present the award for Best Supporting Actor. She seems somewhat rigid but looks gorgeous in white. Javier Bardem wins it for No Country for Old Men. No surprise there as most people seemed to be predicting that he'd take this one. Bardem thanks the Coens and the cast of the film. He dedicates the award to his mother and thanks her in Spanish.
9:22 p.m.: Stewart is back on stage and joking about the Spanish portion of Bardem's speech. Now he's introducing a montage for a montage called "Oscar's Salute to Binoculars and Periscopes." Apparently this is what we would've gotten had the writers strike not ended. That was weird. And now a montage called "Bad Dreams: An Oscar Salute." It's a bunch of clips from movies of characters waking up from a nightmare. Pretty clever actually.
9:25 p.m.: Keri Russell is on stage, introducing the second Best Song nominee performance, "Raise It Up" from August Rush. 11-year-old Jamia Simone Nash as well as some other people from the film and a choir perform the song admirably.
9:29 p.m.: Owen Wilson presents the award for Short Film (Live Action). Le Mozart Des Pickpockets wins it. Philippe Pollet-Villard comes up on stage to accept the award but as he barely speaks English, he does his best to say thanks and quickly steps away from the microphone.
9:31 p.m.: Jerry Seinfeld, in the form of the animated bee from Bee Movie is on stage (sort of, he's a cartoon afterall) to announce the award for Short Film (Animated). Peter and the Wolf wins the award. Suzie Templeton and Hugh Welchman accept their awards with brief, uneventful speeches.
9:34 p.m.: It must be time for Actress in a Supporting Role because we're getting a similar montage of previous winners in the category. Alan Arkin is here to present. And the winner is Tilda Swinton for Michael Clayton. She begins her speech with an "Oh no." She then says that her agent looks like Oscar (the statue) and then says that she's giving him the award because he's the reason she's there. She goes on to thank other people involved in the film.
Is it me or is this ceremony moving surprisingly fast? Maybe I'm just noticing that in contrast to the recent Grammy Award Ceremony, which consisted mostly of performances with a few awards sprinkled in for flavor.
9:44 p.m.: The very pregnant Jessica Alba takes the stage to talk about the Academy Scientific and Technical Awards, which she hosted. Everyone applauses for the winners of those awards. Afterwards, Stewart makes a joke about Jack Nicholson impregnating people at the Oscars.
9:46 p.m.: Josh Brolin and James McAvoy start off their presentation by reciting famous quotes from movies. They work their way over to announcing the nominees for Best Adapted Screenplay. The award goes to the Coen Brothers for No Country for Old Men. The Coens seem like a quiet two-some and after making a dry joke that gets some laughs, they say thank you and exit the stage.
9:49 p.m. - We're now treated to a video that explains how the nominations are made and the votes tallied. According to the video, the whole thing is very reliable and fair. How fascinating.
9:52 p.m.: Jon Stewart introduces Miley Cyrus. She's here to introduce the third nominated song. Another one from Enchanted, "That's How You Know" is being sung tonight by Kristen Chenoweth. Saw her in Wicked. Love her! She's definitely a great choice for this performance. Unlike "Happy Working Song," this performance appears to include dancers and back-up singers to imitate the Central Park scene in the film. Chenoweth is positively glowing as she sings and moves about the stage (Can you tell I'm a fan?). Wow, there are acrobats dressed in blue jumpers flipping around. Well that performance was certainly bigger than the first two in terms of flashiness. I think people will have either loved that or hated it.
10:00 p.m.: Jon Stewart comes out and corrects his earlier comment about the pregnant women in the audience and jokes a bit about that and then introduces Halle Berry and Dame Judy Dench. Instead, funny-men Jonah Hill and Seth Rogan step out on stage and joke about how they're not Berry and Dench. With their shaggy curly hair, beard scruff and thick-rimmed glasses, Hill and Rogan look like brothers. They're here to announce the award for Best Sound Editing. Karen Baker Landers and Per Hallberg win it for The Bourne Ultimatum. Both seem to have totally blanked out and it takes them a minute to remember who to thank. Eventually the music comes up and mercifully ends this awkward moment. Rogan and Hill are back, still joking about being Halle Berry and Judy Dench. Now the award for Best Sound Mixing. Once again, The Bourne Ultimatum wins it. Entertainment Weekly's Dalton Ross is not going to be happy about O'Connell losing this one. Scott Millan, David Parker and Kirk Francis accept the award.
10:09 p.m.: Now another montage. This one's for previous winners for Actress in a Leading Role. Forrest Whitaker is presenting this award. And the award goes to Marion Cotillard for La Vie En Rose. She seems genuinely surprised and thankful for winning the award. She thanks life and love and says that it's true that there are some angels in this city. Ok, so it's not the most thought-out acceptance speech but the sincerity of her emotions as she said it made the whole thing enjoyable. This is the kind of thing I enjoy seeing when I watch the Oscars.
10:17 p.m.: Jon Stewart is now on stage playing Wii tennis on the huge screen with Jamia Simone Nash. Colin Farrell, looking scruffy and unwashed as usual comes out to introduce the fourth Best Song nominee, "Falling Slowly." This is another simpler performance, with just a female singer playing the piano, while a male singer duets with her as he plays the guitar. Definitely a huge contrast from the previous Best Song nominee performance. I haven't seen Once and never heard this song before but this performance is definitely winning me over for Best Song choice (despite how much I heart Enchanted). I would definitely not be disappointed if "Falling Slowly" took the award.
10:22 p.m. Jack Nicholson takes the stage to introduce the montage for the past 79 Best Picture winners. This obviously takes more than a few minutes as we get to see a brief scene from each movie.
10:28 p.m. Renee Zellweger is now on stage announcing the nominees for Best Editing. Wow. The Bourne Ultimatium just won it's third Oscar of the night. Did anyone predict this? The speech is quick and Stewart returns to the stage to acknowledge the orchestra and introduce Nicole Kidman.
10:31 p.m.: Kidman (whose lips look unnaturally plump) is here to introduce a montage for the honorary Oscar, which is being given to Art Director Robert Boyle. After the montage, the 90-something-year-old Boyle takes the stage to accept his "sorry you never won an award, so here's an award" award. He gets a standing ovation from the audience. He thanks the academy and to Nicole for presenting it. He neglects to thank her unnaturally plump lips. Lots of thank yous to the people in the industry whom he worked with and his family. The speech goes on for a while but the producers don't dare music him off the stage. When you're over 90 years of age, you're allowed to talk for as long as you want when accepting an Oscar. I think that's a rule somewhere.
10:42 p.m.: Penelope Cruz is presenting the award for Foreign Language Film. The Austrian film, The Counterfeiters wins it. Now it's time for the final Best Song nominee performance. Patrick Dempsey introduces the performance for "So Close," from Enchated. Yes, three out of the five Best Song nominees were from Enchanted. The song is ok but the choreography is really what stands out in this performance. There's lots of ballroom dancing going on on the stage.
10:49 p.m.: John Travolta dances onto the stage at the end of the performance and steps up to the microphone to announce the winner for Best Song. Despite Enchanted having three songs in the running, Falling Slowly wins it! As I said earlier, having heard the song performed tonight, I definitely think this one is deserving of the win. Glen Hansard says his thanks and the music comes up before Marketa Irglova gets a chance to say her thanks. Man, I hate that. It's not like Hansard went on for that long either.
10:56 p.m: Aww! After the commercials, Stewart came out and let Irglova say her thanks and enjoy her moment. That was really nice. Irglova talks about pursuing your dreams and how hope connects us all. Once that's over, Stewart introduces Cameron Diaz, who is here to present the award for Best Cinematography. Diaz has a hard time getting the word "cinematography" out but makes it through the presentation. The award goes to Robert Elswit for There Will Be Blood. Elswit uses his time to acknowledge the hard work of the other people who worked on the film.
11:01 p.m.: Hillary Swank, appropriately dressed in black presents the "In Memorium" montage. Actors, directors, cinematographers and other people in the film industry are honored throughout the montage. There's applause for some of the more recognizable names as always. Heath Ledger is shown last and there's more applause. The montage fades out and we're off to another set of commercials.
11:08 p.m.: The orchestra is playing the music from "Happy Working Song" (probably to make us feel happier after the depressing "In Memorium" montage) as Enchanted star Amy Adams steps onto the stage to present the award for Original Score. The Oscar goes to Dario Marianelli for Atonement.
11:12 p.m.: Tom Hanks introduces some soldiers who are in Baghdad and via satellite, are on hand to announce the nominees for the Best Short Documentary award. Freeheld wins this one. Cynthia Wade and Vanessa Roth take the stage in tears and by far the most emotional of tonight's recipients. Their documentary centers on a woman who is dying of cancer and fighting a policy that prevents her from transferring her penchant to her domestic partner. Sounds interesting and at the same time, very sad. Now we're on to Best Documentary Feature. Hanks, himself reads off the list of nominees for this one. Taxi To The Dark Side wins this one. Alex Gibney and Eva Orner accept the award. Unlike the previous winners, who were extremely tearful, Orner and Gibney are all smiles as they say thanks and make their award dedications.
Only four awards to go, people! This is the part where I start to yawn and wish they'd just get on with the Best Picture award.
11:23 p.m.: Harrison Ford steps onto the stage to present the award for Best Original Screenplay. The Oscar goes to Diablo Cody for Juno. I'm not surprised by this, considering all the buzz this movie's gotten. Cody, clad in a leopard-print dress, dedicated her award to the writers and thanks the cast and crew of the film as well as her family. As her speech goes on, she starts to cry and once she seems to have lost all control, quickly exits the stage. Excuse me, I have something in my eye. Need to get a tissue.
11:28 p.m.: Now we're on to Best Actor. Here to present this award is Helen Mirren. It must be said that Mirren is a vision in red. Sorry for the rhyme but it's true. The Oscar goes to Daniel Day-Lewis for There Will be Blood. His speech is almost poetic as he accepts the award and mentions Paul Thomas Anderson's brilliance for coming up with the film. Then he does the usual thank yous and walks off the stage arm in arm with Mirren.
11:40 p.m.: And now we're down to Best Directing. This one starts with another montage. Martin Scorsese takes the stage to present the award. The Coen Brothers win again for No Country for Old Men. Once again, Ethan gives a brief, dry "Thank you," which gets a laugh. Joel is the talker here and talks a bit about making films with his brother and then goes on to thank everyone.
11:44 p.m.:Wow, we don't go to commercial! Instead, Denzel Washington steps up to the microphone and announces the nominations for Best Picture - the final award. And the Oscar goes to, No Country for Old Men.
After the Best Picture speech (which was the usual thanks to the studios and the cast and crew and all that), Stewart comes out and says good night. The show is over.
So what did you think of this year's Oscars? I thought Stewart did a fine job hosting once again. Considering how quickly the event was put together in terms of the writing, he did a pretty admirable job. With the exception of a few recipients' speeches, most of them were the standard variety Oscar speeches. I'm not sure that I would say that there were any truly memorable moments at this years' ceremony. I mean in comparison to Adrian Brody grabbing Halle Berry and kissing her, Julia Roberts whooping with glee or even Roberto Benigni jumping up onto the seat when he found out he won, this year's run of winner reactions were pretty tame. If there's one thing that will come from staying up until midnight watching this year's awards, it's that I'm now fully convinced to see No Country for Old Men and There Will Be Blood.