Lost Finds A Premiere Date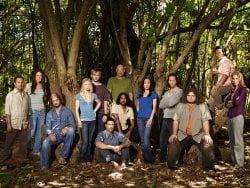 Remember when we were going to get 16 beautiful, uninterrupted episodes of Lost? Well those days are gone. As we previously reported, the writers strike has led ABC to go ahead with an eight-episode season. That's the bad news. The good news is at least we have a premiere date.
According to E! Online, Lost's 4th season is set to premiere Thursday, January 31st at 9 pm. That time slot is usually reserved for Grey's Anatomy, but since Grey's last new episode will be airing in early January, the slot will be wide open. This is a change from last season, when Lost aired Wednesdays at 10.
The writers strike has been both a blessing and a curse for Lost. The forced separation of the season into two parts will no doubt be frustrating for die-hard fans (remember how awful last season's six-episode mini-season was?), but the fact that it has landed what could arguably be called the best time slot on the entire schedule is of course going to work in its favor. Plus, with other primetime shows quickly running out of new episodes, it's going to be one of the few scripted dramas left on the air. Those viewers who don't just give up on television completely will probably turn to Lost, gaining some new fans for the series. Of course, with the air date for the final eight episodes of season 4 possibly not happening until early 2009, there's a high probability that Lost will not only lose the new fans that they gain this year, but the old ones who are just tired of waiting around to find out exactly what the deal is with that damn island.
Your Daily Blend of Entertainment News
Your Daily Blend of Entertainment News
Thank you for signing up to CinemaBlend. You will receive a verification email shortly.
There was a problem. Please refresh the page and try again.