Lost Girl Preview: The Succubus Arrives At Syfy Tonight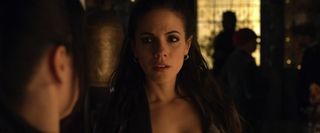 Tonight, Syfy is set to premiere the Canadian supernatural crime drama series Lost Girl. The show will fittingly air following the return of Being Human, which is also supernatural-themed (and also sort of borrowed, except in this case, it isn't a remake of another popular show).
Lost Girl originally premiered on Canada's Showcase Television and stars Anna Silk as Bo, a woman with the ability to steal people's life-force through their mouths. She also has seductive powers that allow her to convince people to do things if she's touching them. In the premiere episode, we're introduced to her and her abilities as she soon discovers she's not alone and that there are ways to control what she can do.
?The clips below offer a glimpse at the series and the general tone of the show.
Given the supernatural element and the fact that the story is set in a modern-day world, it looks like Lost Girl will be a good fit for Monday night on Syfy. It's set to follow the second season premiere of Being Human, another supernatural drama. You can read our take on the Season 2 premiere of Being Human here.
Lost Girl premieres tonight (Monday, January 16th) at 10:00 p.m. Et on Syfy.
Your Daily Blend of Entertainment News
Thank you for signing up to CinemaBlend. You will receive a verification email shortly.
There was a problem. Please refresh the page and try again.