Louie Season 4 Review: Still As Wonderful As Ever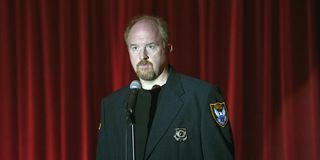 Louis C.K. disappointed fans when he decided to take a brief sabbatical from his FX series Louie, leaving us without the schlubby middle aged mansploits last year. The comedian said he wanted to recharge, and maybe to a degree reinvent the series. So now that we're on the cusp of Louie's return, did he achieve any of his goals? To be honest, the first four episodes of the new season are odd to define. This is the same show it's always been, a middle aged man going through life. Now though, there's an element of how the character is perceived by others that colors the show and takes it in an exciting new direction.
It's a nuanced point, and superficial analysis shows Season 4 of Louie harkening back to the show we already know and love. Louis C.K. has created a fictional world based on reality that is artistically able to analyze that reality. So, we witness absurdist humor in the guise of twentysomethings wandering aimlessly through a coffee shop bumping into one another, enthralled with their smartphones. These things happen around Louie, they happen to him, and while he still has that brilliant "What the fuck?" expression, we're further allowed to see how others perceive events.
None more telling than a black tie affair out in the Hamptons. A major comedian guest star invites Louie to a benefit show at the last minute, and our hero shows up in a t-shirt as he walks past hundred thousand dollar vehicles. Meekly tucking his shirt into his jeans, Louie arrives to a friend who is appalled and embarrassed. In a show of confidence, Louis C.K. has his character do a comedy set that is one of the worst ever televised. You watch this man, who you've seen in this very show do incredible stand-up, die a painful performer's death onstage. But he connects with you, and he makes it all real.
Louie is a show mired in humanity. Louis C.K. has spent three years reacting to the world, giving us his view on what makes a bully or why there's sometimes only one mango pop. Now we're seeing what happens when Louie is confronted with his own prejudices. In what might be the most incredible examination of fat shaming, Louis C.K. writes an altercation between Louie and a new Comedy Cellar waitress in Episode 3 that is not about blame or vengeance. It's simply a moment of awareness and awakening for a man who is not traditionally beautiful passing judgment on someone's physical appearance.
Louie comments on her weight and the show stops. They stop. The camera pans around, this awkward moment, and hangs there. It holds on the moment as people pass the couple on the street. This middle aged man who has two daughters, eats shitty food, complains about needing to take care of himself, and is an OK human being. At that moment Louie has caused tremendous emotional harm to this woman, who reacts not with anger or hate.But with words that cut straight to the core of the problem. It's one of my favorite moments of television this year.
You can't describe how Louie works, just as I can't list off the lines from a scene and have their impact make sense. This is a series that demands to be watched, and wants to be loved. What it is not, however, is an uproarious comedy. I rarely laugh during an episode of Louie, although the card table scenes with Jim Norton and Sarah Silverman discussing dildos is a genuine laugh inducing moment. This show is funny, because it's true.
Louie season four premieres Monday, May 5 at 10pm ET on FX.
Your Daily Blend of Entertainment News
Staff Writer at CinemaBlend.