Louie Watch: Season 3, Episode 5 - Daddy's Girlfriend Part 2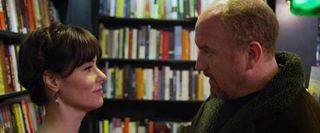 Louie delivers a show stopper of an episode, featuring the best performance in any form of media this year by the amazing Parker Posey.
C.K. has really out done himself this week, making this probably my favorite episode of the show to date. As the second part of a two-parter, we were introduced to Posey as she helped Louie look for a book for his daughter and he got up the guts to ask her out on a date. This episode is that date, and it is incredible.
C.K.'s directing eye has never been better then it is here, and no other episode has felt as alive as this one. The episode felt like we were a fly on the wall of a real experience, and this is due to some fantastic writing and plotting by C.K. It was also very smart to just capture the wonder that is Parker Posey. The focus is on her, as it should be, and C.K. lets us experience her from Louie's POV which really allowed us to be sucked into her performance.
There were two segments of the date that stood out among all the other greatness going on the episode: the eating scene and the couple's interaction with a homeless man. The food scene was just wonderfully edited and scored (the musical choices were stellar throughout the episode) and made me so hungry for the deliciousness they were enjoying. The sequence with the homeless man was an incredibly sad and uplifting moment all at once and the interaction between Posey and the man during his snake story was touching. Pulling these moments out is almost unfair though as everything in the episode works wonderfully.
The praise for Posey could go on all night as she is just an unpredictable and magnetic presence throughout the episode; I couldn't look away. Whether she is making Louie put on a dress, making up a wild story about her name, or saving the life of a homeless guy, you never know what is going to happen. The performance keeps building, getting better and better, and it's in those final moments that we get to see the facade she is putting up. An alcoholic manically trying to distract herself from the urge to drink might never be played better, but in that silent moment of stepping off the ledge, because she might just jump, is Posey's greatest moment in the episode.
There isn't a lot to say about Louie this week other than that it was brilliant. Superlatives can barely live up to the performance by Posey in the episode and it happens to be one of C.K.'s finest technical achievements on his show to date. C.K.'s chemistry and performance opposite Posey is great as well, but nothing really comes close to the work she does. Just go out and watch this episode any way you can, as soon as you can, because it is one of the finest pieces of entertainment to hit this year and probably the best episode of Louie to date.
Random Thoughts I Was Able To Jot Down While In Awe Of Parker Posey:
-"My name's Roger."
-This date isn't going to go well; two Jägers?
-Tape Recorder?
-"People call you, Tape?"
-"A more humane version of throwing it in the garbage."
-This doesn't even feel like a show, it feels real.
-"Do it! Do it! Get up now!"
Your Daily Blend of Entertainment News
Your Daily Blend of Entertainment News
Thank you for signing up to CinemaBlend. You will receive a verification email shortly.
There was a problem. Please refresh the page and try again.