Louis C.K's Officer Dave Sanderson Returning To Parks And Recreation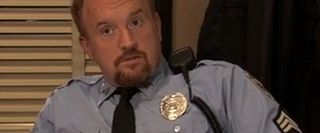 There are suddenly a lot of jobs being filled at NBC's Parks and Recreation department. Right on the heels of announcing that Kathryn Hahn would be stepping into the sitcom for a multiple episode arc this season, the show has already lined up another exciting guest star. Actually, returning character would be a more accurate description since it seems that Officer Dave Sanderson will be back walking the Pawnee beat, for one episode at least.
TV Line broke the exciting news that former recurring character and Leslie's ex-boyfriend Officer Dave would be coming back for one show set to air early next year. Louis C.K. will soon have some free time since he's just finishing editing his latest comedy special, which is set to stream online on December 10 (for five bucks... yeah, I'll be watching) as well as being in between seasons on his critically acclaimed FX comedy Louie. I love how there's the option to "enter your email for updates, or don't do that" on his website because I can hear him delivering that line (and I'm already laughing). Needless to say, his return to one of the best shows on TV is pretty exciting news.
However, the news may be exciting for us in the audience but it is sure to throw another spoke, even if a really laid-back and mild-mannered one, in the Leslie-Ben relationship. The election is already forcing them apart and now Dave's return from San Diego will only complicate matters more - except, we know it's a one episode guest spot (for now, pray for more) so Ben's probably pretty safe. Or at least not in much worse shape than he is currently. As far as cast reactions go, Adam Scott gave the news a simple retweet (he must be gearing up for the showdown) while Aziz Ansari added a Yessirrrr!
Parks and Recreation airs Thursdays at 8:30 p.m. ET on NBC. It stars Amy Poehler, Nick Offerman, Aziz Ansari, Aubrey Plaza, Chris Pratt, Rashida Jones, Adam Scott and Rob Lowe.
Your Daily Blend of Entertainment News
Thank you for signing up to CinemaBlend. You will receive a verification email shortly.
There was a problem. Please refresh the page and try again.