Manhattan Love Story Review: Quirky, Klutzy Comedy Relies On Weird Inner Monologue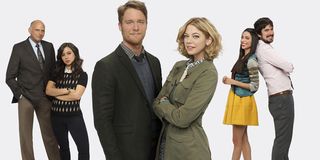 It's getting tougher and tougher to put together a half-hour sitcom premise that will work for the networks. Most of the time, writers and producers can't simply pitch "family comedy with strong female lead" or "romantic comedy with witty dialogue and two oddball characters." There often needs to be a gimmick, and ABC's latest, Manhattan Love Story, offers a big one.
When sweet girl next door Dana (Analeigh Tipton) meets Peter (Jake McDorman) it isn't exactly a meet cute. Both were suckered into a date by mutual friends and to top off their disgruntled feelings about being set up, Dana's also coming off a pretty piss poor first day on the job. There are boob stares, tears and not nearly enough wine to make either appropriate. It's just awkward, which happens to be the key vocabulary word that can describe nearly every plot device and theme in Manhattan Love Story.
The story follows both Dana and Peter as they embark on a shaky romance, but more importantly, it follows the two individuals thoughts as they live and woo in New York City. Yes, this means the audience can literally hear the inside thoughts of each of the lead characters as they navigate a blossoming relationship. Because of this, the show has a bit of a What Women Want feeling, except in this case only the audience can hear Dana and Peter's thoughts, and thus, only we know what the two individuals want.
Manhattan Love Story is definitely a forward-thinking comedy following a concept that is a little more outside-the-box than what we are used to from executive producer and creator Jeff Lowell. The man's known for writing and producing on such laugh track shows as Just Shoot Me! and Two and a Half Men. Regardless, in the movie world, people have also let him write rom coms, including Must Love Dogs and John Tucker Must Die. Thus it comes as no shock when Manhattan Love Story's first couple of episodes read like the beginning of a big screen romantic comedy; I'm just not sure where the series could possibly be going beyond the scope of a first season. Probably I'm just befuddled about the comedy's reliance on its inner monologue.
There's definitely a lot of telling rather than showing going on in Manhattan Love Story. On the bright side, the audience can't hear the thoughts of the supporting cast, and it's a welcome relief. Most of the characters we are introduced to in the first couple of episodes are Peter's family members. Peter and his two siblings (Chloe Wepper and Nicolas Wright) work for a trophy-making company owned by his savvy father, William (Kurt Fuller), who pits them opposite one another to keep the competition levels high. Those scenes are a breath of fresh air against all of the wildly unromantic romantic moments that make up the bulk of Peter and Dana's relationship so far.
While I appreciate that McDorman has a beard that allows him to pass for his mid-thirties, he's an unlikeable but amusing jerk who at one point has the gall to admit he wishes he could have met Dana later in life. She's no less cringe-inducing, although she's a lot nicer and more accepting of Peter than he is of her. She, however, is a technology and real-life klutz, falling off stools, stepping in puddles and swiping the wrong way on Tinder.
McDorman and Tipton are both actors in their twenties, but Manhattan Love Story doesn't feel youthful enough to be about two New Yorkers finding each other in their twenties. It is extremely quirky and unlike anything else ABC has to offer. Like the network's former series Happy Endings, it will likely live or die by its quirkiness.
Rating:
ABC's Manhattan Love Story stars Analeigh Tipton, Jake McDorman, Nicolas Wright, Jade Catta-Preta, Chloe Wepper and Kurt Fuller. The comedy premieres tonight at 8:30 p.m. EST following ABC's other new comedy, Selfie. You can take a look at the rest of the fall premiere schedule, here.
Reality TV fan with a pinch of Disney fairy dust thrown in. Theme park junkie. If you've created a rom-com I've probably watched it.
Your Daily Blend of Entertainment News
Thank you for signing up to CinemaBlend. You will receive a verification email shortly.
There was a problem. Please refresh the page and try again.