Manhattan Love Story Clip Teases An Awkward Date For Analeigh Tipton And Jake McDorman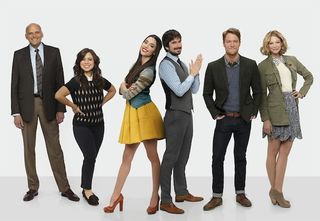 Analeigh Tipton starring in a half-hour comedy on network TV feels like a big win for television. The fact that it's Jake McDorman starring opposite her is an added bonus, as both actors have certainly demonstrated their talent in previous roles. ABC released a clip for Manhattan Love Story, which they have set to air on Tuesday nights, and it gives us a tiny bit of insight into who these two characters are. Jake McDorman's Peter is not even listening to what his date is talking about. His houseplant's wellbeing is more interesting to him than whatever it is she has to say... until he sees a bit of her bra. Then she has his attention.
Analeigh Tipton's Dana is fully aware that her breasts have caught his attention, and she's not afraid to point that out to him... which he sees as "feisty," as revealed to us by his inner-monologue. Most of what we hear from them in this scene comes from inside their heads, and that's apparently part of the set-up for Jeff Lowell's new comedy. As the group character photo implies, there are three men and three women at the center of this series...
UPDATE: Here's the trailer for Manhattan Love Story, which gives us a better idea of all of the inner monologues we'll be hearing in this comedy series...
The clip is amusing, so that's certainly a start, and the cast for Manhattan Love Story is certainly promising. While Tipton's recent credits include feature roles (Crazy Stupid Love, Warm Bodies), she had a run on HBO's Hung, so this isn't her first TV job. Jake McDorman may actually be better known for his small screen work, having starred in ABC Family's Greek, and more recently recurred on Showtime's Shameless as the (too) nice-guy love interest to Fiona, Mike Pratt. The cast also includes Nicolas Wright (Accidentally on Purpose), Jada Catta-Preta (Californication), Kurt Fuller (recently of Psych and Parenthood) and Chloe Wepper, who's a newcomer, more or less, though she has a few credits, including an appearance in Criminal Minds.
ABC has Manhattan Love Story set to air on Tuesday nights at 8:30 p.m., starting this fall. Check out the full Fall 2014-2015 lineup for ABC here.
Photo Credit: ©ABC