Mark Hamill Will Return To The Flash In Season 2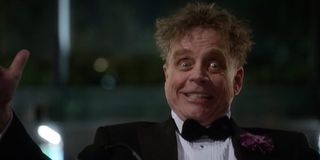 When it was announced that Mark Hamill would be reprising The Trickster on The CW's The Flash, many fans were amazed. The Star Wars alum had previously played the gag-obsessed super villain in the original 1990 Flash series, and 25 years later, he was playing the character in live-action yet again. The new Trickster iteration made a memorable debut in the Season 1 episode "Tricksters," and now fans can look forward to him antagonizing the Scarlet Speedster again in Season 2.
After leaked set photos emerged on social media showing him on The Flash set, Comicbook.com confirmed with Warner Bros. that Hamill will return to play James Jesse in Season 2. No details were revealed on which episode(s) he'll appear in, though if the episode is currently filming or just wrapped up, then presumably we'll see him around the midseason point. In addition to playing both live-action versions of the Trickster, Hamill also voiced the villain in the Justice League Unlimited episode "Flash and Substance."
In The Flash continuity, Hamill's Jesse went on a destructive rampage across Central City in the early '90s before he was imprisoned. Two decades later, Barry Allen and Joe West sought Jesse's assistance in capturing copycat Trickster Axel Walker (played by Devon Graye). As it turns out, James was secretly in cahoots with Walker, who broke the elder Trickster (who happened to be his father) out of prison. The two loons then poisoned the attendees of Mayor Antony Bellows' fundraiser and would only deliver the antidote in exchange for all their money. When Flash showed up to stop them, they were able to attach a bomb to his wrist that would detonate if Barry stopped running below 600 mph. Fortunately, Barry was eventually able to phase out of the explosive bracelet, inject each attendee with the antidote, haul the Tricksters back to jail, and save his captured father.
It wasn't revealed whether Walker will be appearing with Jesse in Season 2, so perhaps this time around, Jesse will be going solo. In a season that's full of new threats both from The Flash's main world and Earth 2, Trickster is one of the few enemies from Season 1 that's been confirmed to return. Captain Cold and Heat Wave appeared in a dream sequence in "The Man Who Saved Central City," and the former will make his first official Season 2 appearance alongside his sister Golden Glider in "Family of Rogues." The telepathic gorilla Grodd is also expected to return at some point.
You can catch new episodes of The Flash Tuesdays at 8 p.m. EST on The CW, while Hamill can soon be be seen reprising Luke Skywalker in Star Wars: The Force Awakens on December 18.
Connoisseur of Marvel, DC, Star Wars, John Wick, MonsterVerse and Doctor Who lore. He's aware he looks like Harry Potter and Clark Kent.
Your Daily Blend of Entertainment News
Thank you for signing up to CinemaBlend. You will receive a verification email shortly.
There was a problem. Please refresh the page and try again.