Married With Children's David Faustino Will Guest Star In Modern Family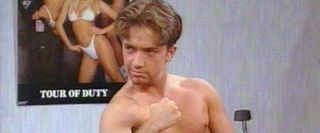 Modern Family will be seeing something of a Married …With Children reunion in an upcoming episode. David Faustino will be popping by the ABC series, which stars his former TV dad, Ed O'Neill, for a guest appearance, although it doesn't sound like the two will reunite in the way fans may have hoped.
In the former Fox comedy, Faustino played Bud Bundy, son of TV's most pathetic shoe salesman Al Bundy, which is the role for which he is probably best known. He'll be coming on board O'Neill's new hit comedy to play a guy somewhat more successful in life than the long-suffering Bud. He's set to play Drew, an old classmate of Claire's who has made good in life and who will show up at her reunion to reconnect with her. THR says that, unfortunately, we won't get to see Faustino and O'Neill together again, as his role doesn't give him any screen time with his old Bundy dad.
Faustino has been keeping busy lending his voice to the Nickelodeon series The Legend of Korra, and has popped up in a couple of short-lived series, such as Working Class and Clunkers, along with some movie roles. He's set to film his episode this week, but so far there's no word on when it will actually air. Modern Family has already aired its last episode for 2012, so we'll see David Faustino sometime in the new year.
Modern Family airs Wednesdays at 9 p.m. ET on ABC and returns from winter break on January 16th.
Your Daily Blend of Entertainment News
Thank you for signing up to CinemaBlend. You will receive a verification email shortly.
There was a problem. Please refresh the page and try again.