Minority Report TV Series In The Works With Steven Spielberg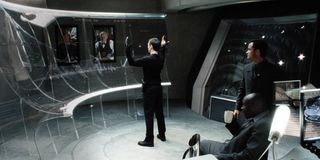 Steven Spielberg has his hand in a lot of pots, including in television production, and while some of his TV projects have not been as good as others, we're very excited about a possible project the man has in the works. Spielberg is hoping to adapt his hit 2002 movie, Minority Report, for the small screen and he's chosen a pretty interesting writer to develop the project, signing on Godzilla's Max Borenstein.
When it was first released into theaters, Minority Report was an exciting and thought-provoking futuristic thriller following the head of a special police unit known as "PreCrime." The goal of PreCrime is to catch criminals before they commit acts of violence, which the division can do with the help of omniscient individuals known as precogs. Tom Cruise stars in the movie, and while it probably doesn't make his greatest films list, it's an interesting sci fi romp, and sci fi is often what Spielberg does on TV best. Plus, according to TheWrap, a Minority Report TV series would focus on the PreCrime unit, which means there would be plenty of opportunity for an offbeat procedural format (and we all know how much TV loves procedurals).
Clearly, the Minority Report project is still in the early stages. Borenstein has been hired to pen the project, and Amblin television will produce. Regardless, no distributor has picked up a pilot, much less greenlighted a series order, and no star has been signed on to headline. The good news is that Spielberg and co. are looking for a big star to headline the project, and if they can get someone who is a pretty big deal, Minority Report has a much greater shot at moving forward.
Personally, I hope Minority Report does find a home. Even if the project does end up being a procedural, it would be a really funky one, with futuristic terminology and technology and police officers looking to stop crime before it happens. There are plenty of procedures on TV, but Minority Report could somewhat fill the gap left by Almost Human at Fox. In fact, 20th Century Fox actually distributed Minority Report; although that doesn't mean Fox is the network looking to pick up the project, it would be an easy and tidy pick-up if Fox was behind the TV show, as well.
With the project still in its early stages, there are still a lot of details that need to shake out before Minority Report goes to series. In the meantime, what do you think? Would you like to see the PreCrime division in action each week?
This poll is no longer available.
Amazing Race & Top Chef superfan with a pinch of Disney fairy dust thrown in. If you've created a rom-com I've probably watched it.
Your Daily Blend of Entertainment News
Thank you for signing up to CinemaBlend. You will receive a verification email shortly.
There was a problem. Please refresh the page and try again.