Masters Of Sex Review: Sex And Science Are On Display In New Showtime Drama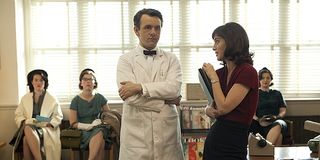 Sex plays a pretty prominent role in many scripted series on TV today, whether it's network, basic cable or premium cable, comedy or drama, sex is often a relevant topic to be explored and the driving force of drama for a story. Showtime's new drama Masters of Sex puts sex front and center, on display in the name of science. Well, mostly science. Sex is complicated. It's emotional and physical and biological all at once, and Masters of Sex demonstrates all of that as it tells the story of Dr. William Masters and Virginia Johnson, the two people who pioneered the study of human sexuality, kicking off the sexual revolution in the process.
Created by Michelle Ashford, Masters of Sex is inspired by Masters and Johnson's story. Set in the late 50's, the premiere episode introduces us to Michael Sheen's William Masters, Washington University's foremost OB/GYN who runs a successful medical practice and is also looking to conduct a study on human sexuality. While the hospital is reluctant to sponsor such a study, Masters does his research in his off hours, first by watching a prostitute have sex and taking notes, but later expanding that research to involve equipment and a wider array of subjects. Enter Virginia Johnson (Lizzy Caplan), a single mother who joins the hospital secretarial staff and eventually begins working with Masters. Johnson's more liberal than average view on sex makes her a good fit for the kind of science Masters is studying.
The period element adds a layer of conservatism to the backdrop, though many of the characters featured are a bit more openminded about sexual activity. As we see in the episodes that follow the series premiere, without the support of the hospital, Masters and Johnson eventually have to get resourceful when it comes to conducting their research, which includes visiting a brothel to observe prostitutes in their line of work. Of course, that means also having to deal with the personal and medical issues of their subjects, which isn't entirely a tangent from the work they're doing, but is somewhat of an obstacle.
When the series isn't focusing on the study, it's taking time to let us into the personal lives of Masters and Johnson. While Masters and his wife struggle conceive a child, Johnson gets physically involved with another doctor at the hospital, but the two aren't on the same page in terms of the extent of their relationship beyond sex.
Both Michael Sheen and Lizzie Caplan have mastered the ability to demonstrate mildly curious and observant facial expressions and tones of voice from their characters as they watch their subjects perform sexual acts on themselves or their partner. Keeping a straight face proves to be particularly useful for both characters, as Masters and Johnson both seem to play their emotional cards close to the vest. But the more we get to know them, the better we understand how each of them approach their own personal and sexual issues. What becomes evident early on are Masters and Johnson's dedication to their research, which they often put before their personal obligations -- for Masters, his wife, and for Johnson, her kids. Sheen plays up Masters as emotionally distant and almost cut-off, as though his personal life is as much a part of his research as his work. The line seems blurry there, at the very least, which is likely affecting his relationship with his wife. Master's isn't exactly as closed off as someone like Don Draper, but there are things he's not telling his wife, which could become an issue. As for Caplan, she's once again managed to transform herself for this role, playing Johnson with poise and confidence, while also offering a hint of vulnerability to the character. As much as I love her comedic work (Party Down, Mean Girls), it's great to see Caplan excelling at drama.
The personal side of the story offsets the clinical side nicely, as the drama demonstrates the relevance of the work Masters and Johnson are doing both from a character standpoint and a viewer's. Sex is everywhere, and let's face it, it's a fascinating topic, whether we're looking at it from a scientific point of view, or from a dramatic perspective. Masters of Sex approaches the topic from all angles -- physically, scientifically, romantically and even reproductively -- exploring the relevance of the activity through the study and through the lives of the characters involved. In terms of graphic content content, sex is obviously a recurring topic in the series, and we're dealing with premium cable, so you can expect your share of nudity and sexual content, but on a scale of one to ten -- with "one" being a network TV comedy that might include a bit of sexual humor but rarely displays much more than an on-screen kiss, and "ten" being something along the lines of a show like Spartacus, that occasionally dedicated minutes at a time to some fairly graphic sexual content -- I'd put Masters of Sex at about a 7. Expect sex and nudity but in relative moderation. Sex has such a huge presence in this series that it doesn't need to be on screen all the time. It's there in the room, whether or not it's actually happening.
Sex is a topic worked into the plot of many TV series, but Masters of Sex takes it right to the surface and wraps it around everything that's going on within the story. And there is a story, which is what makes Masters of Sex such an intriguing, occasionally fascinating and well worth-watching drama. The series takes a few episodes to get warmed up but it gets better with each new episode, so if you like the premiere episode, stick with it.
Masters of Sex airs Sunday, September 29 at 10:00 p.m. ET/PT on Showtime, following the season premiere of Homeland.
Your Daily Blend of Entertainment News
Assistant Managing Editor
Kelly joined CinemaBlend as a freelance TV news writer in 2006 and went on to serve as the site's TV Editor before moving over to other roles on the site. At present, she's an Assistant Managing Editor who spends much of her time brainstorming and editing feature content on the site.