Melissa Joan Hart And Joey Lawrence Nab Series At ABC Family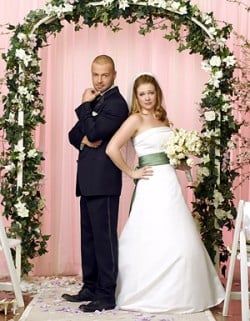 It's the '90s all over again over at ABC Family. Joey Lawrence of Blossom fame and Melissa Joan Hart of Sabrina, the Teenage Witch are reuniting on the network. Only this time they'll be starring in their own show. The pair executive produce and star in Melissa & Joey, a sitcom picked up by the network for ten episodes later this year.
I'm just glad to see that Joey will be playing a character named Joe again. This Joe finds himself moving in with Melissa as her "manny." The problem is that Melissa is a local politician who suddenly finds herself responsible for her nephew and niece after her brother flees a scandal while her sister-in-law winds up in prison. The scandal is probably political as well, as Melissa is apparently from a long political family.
So basically it's a variation of Who's the Boss? with Joey as the male housekeeper and nanny and Melissa Joan Hart as the workaholic busy mom. The network said, "We knew we wanted to get them together again, and developed this comedy specifically with them in mind." By developed, I think they mean they watched old episodes of Tony and Angela pining after one another. They even had a teenage girl in the house and a pre-adolescent boy.
Why ABC Family says the wanted to get Joey and Melissa together again, is because the pair set ratings records for the network in 2009 with the telefilm My Fake Fiance. And why Joey and Melissa agreed to do it is because ... well, come on, what else have the got going on. ABC Family is on a tear with successful series of late.
And Joey gets to be named "Joey," which is apparently very important to him.
Your Daily Blend of Entertainment News
Thank you for signing up to CinemaBlend. You will receive a verification email shortly.
There was a problem. Please refresh the page and try again.