The Mentalist: The Complete Fourth Season [DVD Review]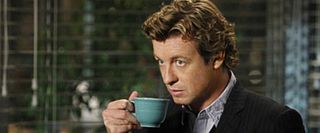 At its best, The Mentalist balances the comfortable formula of a police procedural with the intellectual aggression of television's most brilliant mind. It offers viewers a mystery, a generic, standard whodunit they could just as easily encounter on a dozen other shows but this whodunit gives its title sleuth extra room to work his magic. Through fascinating mental tricks and unorthodox schemes, Patrick Jane (Simon Baker) always sniffs out the guilty party, although, ultimately, his or her identity is far less interesting than how he discerns it.
Like Season One through Three, Season Four of The Mentalist offers mostly bottle episodes. Jane and his four associates at the California Bureau of Investigation, Cho (Tim Kang), Rigsby (Owain Yeoman), Grace (Amanda Righetti) and team leader Lisbon (Robin Tunney), are given a dead body and an initial lead during the introductory scene. The rest of the runtime is spent interviewing witnesses, tracking suspects, engineering one clever ruse to make the killer come out into the light and if there's time, giving fans a few minutes of non-case personal life intrigue. The lack of emphasis on week-to-week carryover will likely annoy viewers who prefer more forward momentum, but for this show, the lack of emphasis is definitely the right call.
Apart from the times in which Jane hunts and interacts with series-long antagonist Red John (which is, incidentally, the whole point of the title character working at the CBI), the personal lives of the other agents are far less interesting than their cases. During Season Four, Cho is given some time with his girlfriend Summer. Rigsby is given a new love interest. Grace is allowed to deal with the trauma she suffered during Season Three, and Lisbon runs into a few people from her past. I suppose these are the tidbits that distinguish the episodes from other seasons, but for the most part, all they do is reduce the time the team has to solve the case from forty minutes to twenty-five or thirty.
Some shows are better when they deal with the larger picture and cast a wide net. This is not one of them. The Mentalist thrives when it lets Jane relax and try different angles to get to the killer. It's best when it gives him an unclouded mind to pick at his opponent and a web of fresh characters he can study, manipulate and exploit. With a group of fashion designers, a cult leader and cabaret performers, Season Four offers Jane plenty of exciting targets, and when it keeps his co-stars personal lives out of his way, it works pretty well.
It's unlikely anyone will look back on Season Four and claim it was the best of the show's run. There's nothing that really makes it stand out from what we've seen before, but given The Mentalist has long been one of the highest-rated programs on television, more of the same is far from the worst thing in the world. In fact, it's probably exactly what seasoned fans were hoping it would be. So, job well done, I suppose.
Given Patrick Jane's tidy, elegant and un-flashy clothing choices, there's something fitting about the clean lines and easy appearance of The Mentalist's box art. Apart from a color swap, it looks like the other seasons, and it gives the entire thing a pleasing uniformity. The basic navigation of the discs is just as effective and quaint, though pessimists will likely argue simplicity is easy to accomplish without many extra features.
Beyond subtitles and a menu, The Mentalist only offers one bonus feature called the "CBI: Behind The Badge Featurette." The segment interviews various law enforcement officers and asks them to comment on the believability of the main characters. In case you were wondering, Cho is the best at handcuffing, and Jane is a lot closer to how FBI criminal profilers actually behave than you might imagine. There's also some solid info on Lisbon, Grace and Rigsby, as well as a humorous complaint from some of the officers that the office at the CBI is way too nice compared to the conditions in which their counterparts often work.
It's pretty disappointing that this release doesn't offer any commentary tracks or even a gag real, but with acceptable picture and sound, as well as solid episode content, fans should still be pleased with the offering.
Length: 1013 min.
Distributor: Warner Bros
Release Date: 09/18/12
Starring: Simon Baker, Robin Tunney, Tim Kang
Directed by:Charles Beeson, John F Showalter, Chris Long
Created by: Bruno Heller
Your Daily Blend of Entertainment News
Enthusiastic about Clue, case-of-the-week mysteries, the NBA and cookies at Disney World. Less enthusiastic about the pricing structure of cable, loud noises and Tuesdays.