Miley Cyrus In Talks To Star In Bonnie & Clyde TV Movie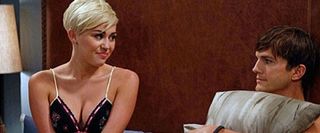 It looks like Hannah Montana really is all grown up. Miley Cyrus, who became a child star on Disney Channel's Hannah Montana television series and movie, is now in talks to play one of the most famous female criminals in history. The role is also half of one of the most romanticized criminal couples in history – the Bonnie half of Bonnie & Clyde.
Cyrus is in negotiations to take on the role of Bonnie Parker, who along with Clyde Barrow became outlaws infamous for a series of bank robberies and a man/woman-hunt that ended with their deaths in a hail of gunfire. The role has been played on the screen multiple times, most famously by Faye Dunaway in the 1960s.
She would join fellow former Disney child star Lindsay Lohan in the lead role of a Lifetime biopic – Lohan is playing Elizabeth Taylor in Liz & Dick - but this project is aiming a little further. Deadline says A&E plans to air the four-hour miniseries not only on Lifetime but on another of its family of channels, History, as well. It marks the first time A&E has ever produced a project to air on more than one channel, and an effort to capture more than just the female audience that tends to tune in to Lifetime's movies.
With her years as teen pop sensation Hannah Montana behind her, it looks like Miley is hoping to prove herself as a grown-up actress. She recently made a guest appearance on Two and a Half Men, showing off a new short blonde hairdo that seems to be an effort to shed her younger image. Taking on a role like this one is certainly a challenge, and if she gets the role it will be interesting to see how she handles it.
Your Daily Blend of Entertainment News