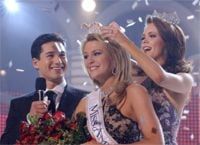 The 'Miss America Pageant' was a really big deal when I was a kid. We'd gather around the TV, pick our favorite states, and stay up late to see who got the crown.
Now the pageant is struggling -- not only to find contestants who haven't posed nude or logged time in rehab, but also to find a network willing to give it a chance. With sagging ratings – a mere 2.4 million viewers showed up for the January 2007 pageant – it was dropped like a cement tiara by CMT earlier this year.
But, according to an E! Online story, the pageant was recently picked up by TLC, the cable network best known for shows like ''What Not to Wear' and 'Trading Spaces.' TLC hopes to resuscitate Miss America by airing a new reality series that takes viewers inside the lives of the 52 beauties competing for the crown.
The 2008 'Miss America Pageant' will air on January 26, and TLC retains telecast rights through 2010. Unless, of course, ratings continue to dive, in which case perhaps contestants can hang their tiaras on winning a featured role on 'Ugly Betty.' Or maybe they'll throw all the contestants on a desert island, where they'll ban together and vote the pageant system off the island.
Your Daily Blend of Entertainment News
Thank you for signing up to CinemaBlend. You will receive a verification email shortly.
There was a problem. Please refresh the page and try again.