Modern Family Watch: Season 3 - Treehouse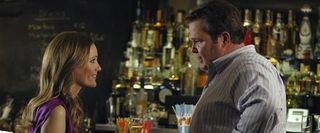 Modern Family is quite good this week thanks in large part to a great guest spot by Leslie Mann, overcoming a lack of plots that fail to go anywhere.
The star plot line is Cam attempting to, seemingly successfully, pick up the prettiest girl at the bar. A bet between lovers, and Cam's undying belief that he can get anyone, leads quickly to a guilt streak for Cam who thinks his new, fake, potential lover might be waiting for him to come sweep her off his feet. I really enjoyed the range Cam gets to show off here and the culmination of the story features a great moment from Leslie Mann in the supporting role. Mann far outshines Chazz Palminteri and Jennifer Tilly of the week's guest stars and I hope she comes back soon as the couple's new gal pal.
The B story is Jay stepping up to be a good husband and joining Sophia on the dance floor, and Ed O'Neill makes it work wonderfully. When a couple asks them out to dance night, Jay picks the big fight while Sophia grudgingly goes out in spite. Sophia doesn't get a whole lot to do, besides a couple of funny pronunciations, but Jay picks up the slack with some truly awful dance moves. The couple's final moment is also very sweet and the "drug" bit somehow caught me off guard and was again nailed by O'Neil.
The rest of the cast gets to go nowhere with both Claire dumping Haley, and Phil's tree house falling really flat with only a couple beats hitting. Claire leaving Haley in the middle of nowhere goes completely against character for Mom and I find it next to impossible to believe that Haley would have found her way home without any electronic devices. Phil actually building the tree house for him makes a lot of sense for the character but the story goes absolutely no where until the final moments of the episode. I really thought the Phil story was going to be good too, and they threw another Luke dumb/smart inconsistency that just rubs me the wrong way every time. Just pick one and stick with it, it is stale and unfair to the character.
Even with half the show falling flat the episode was a big success thanks to Mann and O'Neil. Their scenes work wonderfully and the stuff that didn't work was brief and didn't get in the way. I hope Mann comes back for another guest spot in the future and that we get some more Jay dancing sooner rather than later. Tree house was a pretty solid episode of Modern Family.
Bullets:
-"I never told her, she would have just said no."
-"it's like a circus, but classy."
-Chazz Palminteri and Jennifer Tilly, odd couple, were they on before?
-Cam's delusions of straight domination, fantastic
-Leslie Mann! She has great chemistry with Cam. Like their back and forth at the bar.
-Cam still seemed pretty gay though, could she tell?
-"Their seam should appear straight, just like their owner"
-Is that a power-line going through the tree?
-apparently Alex and Manny are sitting this one out this week
-"People, at the time, said I could go Gerber."
-Oh there is Manny, doing nothing we haven't seen from him before.
-Manny picked Beauty and the Beast music for their first dance? Brilliant, let us see that mischievous side instead of the same ole, same ole.
-Saw that "obstacle" coming, who does that?
-That tree house looks like crap. Luke sees right through Phil, wait, no he doesn't. Again, that balance of Luke being an idiot or brilliant has no balance.
-"Just gay."
-ok, good, Mann saw right through Cam
-Leslie Mann's reaction when Mitchell came home was a highlight of the season, great work by everyone here.
-"I just prefer someone who has one."
-"Honey, the dude in the tree is cool."
-Where's Lily?
Till next week...
Your Daily Blend of Entertainment News
Thank you for signing up to CinemaBlend. You will receive a verification email shortly.
There was a problem. Please refresh the page and try again.