The Most Popular Holiday Commercials Of 2014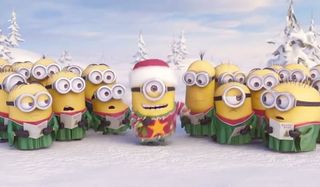 We frequently think of the Super Bowl as the big day for advertisers here in the US, but over the holiday season, commercials actually manage to have a lot of power. It helps that the holidays run for several weeks rather than one night, and this year there have been 10 holiday commercials that have made their marks on our televisions and computers in 2014. You can check out the full list, below.
In order to determine popularity, data site Unruly looked at the "most shared" holiday commercials from 2014 and used them to compile a list. The ads in the list are the most popular ones from the United States. Sorry, #MontyThePenguin--we did really enjoy you, though.
Samsung Mobile's holiday ad follows one of Hollywood's cutest couples—Dax Shepard and a very pregnant Kristen Bell as they get their home ready for the holidays. Shares: 29,457
Apple's heartwarming holiday ad features a young woman using Apple products to convert and transform a love song her grandmother sang for her grandfather years ago. It's a good one. Shares: 33,439
Here at Cinema Blend, we are huge proponents of Kmart's cheeky "Not a Christmas Commercial" ad. However, the one audiences really seem to dig is the Kmart "Jingle Bellies" commercial, which follows some dudes playing drums with their bellies. Shares: 48,210
This jazzy song adds a little music to the holidays. Lady Gaga's wild hairpiece definitely helps. Shares: 57,172
Kmart's Joe Boxer brand is on fire this year. This second goofy Kmart commercial features a bunch of pregnant moms dancing. Shares: 63,556
This funny PooPourri commercial follows Santa's big trip to give presents to good little girls and boys. But apparently, even Santa needs to poop. Shares: 83,225
The Lowell Police Department knows that the holidays can be stressful. So, this year when they pulled people over around the holidays, they also handed out toys for the kids. Shares: 129,280
The Canadian Airline put together this charity commercial explaining how they gave a community in the Dominican Republic a very merry Christmas. The "Spirit of Giving" video has blown up in the US, too. Shares: 231,155
The Mormans are here to remind us of what the holidays are really supposed to be about with the "He is The Gift" commercial. Shares: 303,370
I don't think anything outlines the popularity of the minions from the Despicable Me franchise more than this list. Amc's "Hey Minions fans" tops the most popular share list. Seriously, it's absolutely crushing the competition. Shares: 3,886,996
Obviously, there are a lot of popular holiday-oriented videos out there, touching on everything from gift-giving to religious fervor. You can check out some more great holiday commercials here.
Amazing Race & Top Chef superfan with a pinch of Disney fairy dust thrown in. If you've created a rom-com I've probably watched it.