7 Great Holiday Commercials You Need To Watch Right Now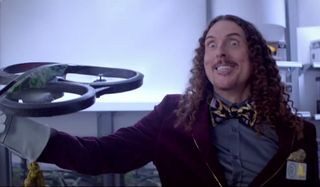 In the coming weeks, audiences will be inundated with commercials relating to shopping for the holidays. A few companies put out promotional ads extremely early this year, and of those 2014 holiday commercials, there are a few that have really stood out. Take a look at our favorite picks for 2014 holiday commercials so far. And as usual, let us know if there are any you think we missed!
There's probably no cuter celebrity couple than Kristen Bell and Dax Shepard, who postponed their marriage in support of their gay friends' right to marry and even got a sloth for a birthday celebration once. Samsung knows how cool those two are, and enlisted the happy couple to put together a holiday commercial following a day putting up impressive Christmas decorations—made easier with a ton of Samsung devices, of course. Bonus points for the matching ugly Christmas sweaters.
RadioShack "Toyland"
RadioShack is selling drones, robot toys and much, much more for the holidays. To make sure you have a good idea of the company's wares, they hired smash hit music artist Weird Al to sing a brand new holiday jingle about everything you can purchase at RadioShack! There's fake snow, new holiday music and lots of crazy faces from Weird Al Yankovic. Hell, even the tagline is great: "The holidays are getting weird at RadioShack. And by weird we mean awesome. And by awesome we mean get up to 50% off all smart gifts." Keep breaking the internet, Weird Al.
Glade, "Feel Anticipation with Kevin Ross"
Christmas carols abound this time of year, but who doesn't love a little music-based holiday cheer? Glade's certainly a fan, and this year the company signed on Motown musician Kevin Ross to sing a rocking and pleasant holiday tune promoting the Glade scent "sparkling spruce." Okay, the actual promotion is a bit of a stretch, but the song's still pretty sweet.
Kmart "Not A Christmas Commercial"
Unlike a lot of the highly emotional Christmas Commercials, this year Kmart has brought us an unabashedly snarky and clever marketing promotion "not" advocating for Christmas shopping or holiday deals. Instead the ad—which came out this fall—tells buyers that if they are planning for a big event like "maybe your entire family is having a birthday on the same day" to hop on over to Kmart for some great steals. Hilariously, in the background we see Yule logs, elves and one giant-ass Christmas tree. Well played, Kmart, well played.
John Lewis "#MontyThePenguin"
Alright, CinemaBlend is admittedly a US-based site and there are no John Lewis locations anyway near our writers. However, we all agree that John Lewis produces some killer holiday ads, and 2014 is no exception. This year, the company's holiday ad tells the tale of a young boy who has a penguin as a best friend. However, his penguin buddy wants a female penguin in his life. On Christmas day, he might just get his wish in this touching commercial that admittedly made me tear up a little when I first watched it. Seriously, that's a company that knows exactly who they are marketing to.
Coca-Cola "Happy Holidays From Coca-Cola"
Alright, Coca-Cola has been a pro at holiday ads for quite a long time. Christmas cheer is old hat at this point, but that doesn't make the soda company's 2014 effort any less valid. Set to Jimmy Durante's "Make Someone Happy," the classic commercial features Santa's workshop and a few random gestures of kindness from everyday individuals. The tagline "give a little happiness." This may not be Coke's best output ever, but man that company is a marketing machine when it puts together heartwarming ads for the holidays.
Stella Artois "Give Beautifully"
By now, everyone's seen the Stella Artois commercial with the old-timey piano explaining the company's roots in Leuven, Belgium. The beer is named after a Christmas star, so this is the prime time of year for the company to advertise, and this year's cute little "this is how we got the star" story doesn't disappoint. However, what makes the Stella Artois commercial this year so spectacular is that all of the props were later gifted to people around the globe. The video below, which explains where the Christmas lights ended up, is really great. Stella Artois isn't just pushing beer when the company says "give beautifully."
Amazing Race & Top Chef superfan with a pinch of Disney fairy dust thrown in. If you've created a rom-com I've probably watched it.
Your Daily Blend of Entertainment News
Thank you for signing up to CinemaBlend. You will receive a verification email shortly.
There was a problem. Please refresh the page and try again.