NBC Cancels Earl, Life, And Medium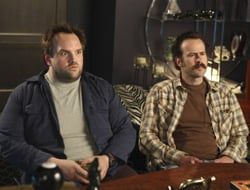 NBC has officially told the cast and crew of My Name Is Earl that the series will not be returning. There was a brief period of time where I thought Earl was better than The Office, but I've recently given up on the show. It looks like I'm not the only one. Of course I'm now hoping that the crew over at 30 Rock can maintain their quality, because that show is now my favorite of NBC's Thursday night comedy lineup.
Perusing our fall lineup schedule for NBC it was clear that Earl was nowhere to be found, and I assumed that the show was cancelled. But it wasn't until Ethan Suplee twittered that they got the news that things were certain. "Just got the call that My Name Is Earl has been canceled. They sure did take their time with that decision or rather informing us of it," Suplee said in his 140 word maximum post.
Also getting the chop officially is Medium, a series that is produced by CBS Paramount. Perhaps CBS will pick it up for a midseason replacement. Kath & Kim, which was replaced by Parks & Recreation, has also been cancelled. I don't think I have to tell you that Knight Rider is gone, and good riddance. Sadly Life is also a victim of NBC's mighty axe.
Staff Writer at CinemaBlend.