NCIS: LA's Agent Kensi Taking A Trip To Hawaii Five-0 In CBS Crossover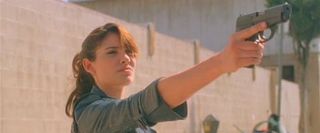 Oh, television crossovers, they are never very good are they? I shouldn't say never because the Flintstones/Jetsons crossovers were incredible, but that was because of the interesting clash of worlds, characters, and endless narrative possibilities. Yet, even the more mundane crossovers, like the one I'm reporting today, seem to make people salivate. Why? Maybe it's just me, but sending a cop from one police procedural to another just doesn't blow my skirt up.
According to TVLine, CBS plans make us a little more excited for two of their younger shows, Hawaii Five-0 and NCIS: LA, presumably in preparation for the upcoming November sweeps week. They broke the news that "the worlds of NCIS: LA and Hawaii Five-0 are about to collide. Daniela Ruah's NCIS: LA character, Agent Kensi, will cross over to fellow CBS crime procedural Hawaii Five-0 this fall." I'd be a little more excited about this news if the two shows were actually crossing over and not just sending one character to the other for one investigation. I get that they're using H50's popularity to try and boost NCIS: LA, but I'm not sure this is going to work as well as they hope.
This really just sounds like a glorified guest spot, trying to fuel the hype machine with TV buzzwords like crossover. I get that they are trying to connect their on-screen universe (even though we know that Los Angeles and Hawaii exist in the same world, this isn't the DCU after all) but they could have made it a little more exciting. Now, if this was a Simpsons/Futurama crossover then we might produce something interesting and genuinely original. Sorry for being the curmudgeon, but I just can't understand the excitement of bringing in a cop from one show to help cops on another show. Maybe if they were bringing all their big guns together...
Either way, Ruah quickly went to the twitterverse to confirm and share her thoughts on the crossover episode:
Hawaii Five-0 premieres Monday September 19th at 10 p.m. and NCIS: LA is on Tuesdays at 9 p.m., both on CBS.
Your Daily Blend of Entertainment News