NYCC: Chuck Creators Spill Details On Upcoming Season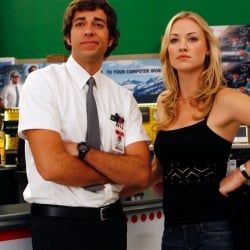 Most of the movie and TV presenters at this year's New York Comic Con were way too spoiler-averse to give us any real information. But the real-life geeks behind nerd action hero Chuck didn't let us down. After showing five minutes of footage from the upcoming season, including shots of Scott Bakula as Chuck's dad and Chevy Chase as another figure from the past, creator Chris Fedak, executive producer Josh Schwartz, and Yvonne Strahovski spilled all kinds of secrets about what we might expect from the gang at the Buy More.
Before I get into the list of new revelations, it's worth noting that all three were incredibly gracious with the enthusiastic fans who had gathered, many of whom asked for autographs, with one actually inviting Strahovski to lead a parade. Schwartz, who has also had a hand in The O.C. and Gossip Girl, pretty much is Seth Cohen, and both he and Fedak displayed the minute level of knowledge of their show that normally you'd only expect out of the fans.
Note that Chuck will be a re-run tonight, because President Obama will be making a speech. He might be making a speech next Monday too, which prompted Schwartz to explain "Clearly Obama's first plan as President was to destroy Chuck." Now that's a battle I'd like to see.
Also check out the video clip below, in which Schwartz explains why Best Buy has not sued their tails off for the Buy More, and what we might see at the Buy More in the future.
Chuck will be improving his spy skills, even though the preview clip showed a lot of him screaming and running away. Chuck will even have his first kill!
Apparently there are people really concerned about whether or not Chuck is being paid by the government, and to satisfy them, that question will be addressed.
There will be a fight scene (probably involving Sarah) set in a car.
Tony Hale, a.k.a. Buster from Arrested Development, is signed on to rule the Buy More with an iron fist for the rest of the season.
Jeff and Lester have a band... called Jeffster.
There may be an episode set at San Diego Comic Con somewhere in the future.
Casey may or may not have a robotic toe! This only came up because a 9-year-old asked about it, but Schwartz and Fedak seemed so thrilled by the idea that I'll be keeping an eye out just in case.
And finally, check out in the video below how the recession may or may not affect Buy More.
Your Daily Blend of Entertainment News
Staff Writer at CinemaBlend