Nancy Grace's Eleventh Victim Set For Lifetime, Will Star Jennie Garth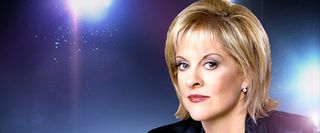 TV personality Nancy Grace has always been one to dabble. The former prosecutor went from working with the law to commenting on it on her TV program Nancy Grace. She then branched out to writing nonfiction and fiction, then tried her hand at Dancing With the Stars, and even guest starred on a couple of episodes of Fox's Raising Hope. Now, the multimedia woman will give producing a go, backing up a TV movie based on her published work of fiction.
The Eleventh Victim, Grace's first published fictional project, will become a Lifetime network movie which follows an assistant D.A. who ends up prosecuting a personal case after her fiancé is murdered. The dude goes to jail, the D.A. switches careers, the dude gets out of jail, and then some murder-oriented havoc is wreaked. Sounds just outlandish enough to work amidst Lifetime's other content, which involves a high-class single mom working sexual favors in a massage parlor and a dead supermodel reincarnated in the body of a less attractive lawyer.
As noted before, Nancy Grace is producing alongside Ted Bauman and Josh Sabarra. The flick, which will go by Nancy Grace's Eleventh Victim seems to already be well on its way. Deadline is reporting Jennie Garth has signed on to play D.A. turned therapist Hailey "with an i" Dean. TV Blend will keep you posted on when this spectacle gets a release date. I'm sure Revenge will be over by then, and some of will be ready for a dose of ridiculous melodrama.
Your Daily Blend of Entertainment News