Natalie Portman Exec Producing ABC Drama Scruples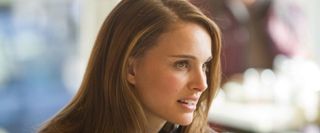 At the age of 30, Natalie Portman already has a damned impressive resume of films under her belt, but aside from some guest appearances, she hasn't done much in the TV arena. It looks like that's going to change, because she's helping head up a new ABC drama pilot based on the Judith Krantz novel Scruples. According to EW, Portman will executive produce the pilot alongside Tony Krantz, Judith's son. While the actress has had EP credits on a couple of her films (No Strings Attached, The Other Woman), this is her first producing gig for TV.
First published in 1978, Scruples tells the story of a wealthy, previously overweight widower named Wilhelmina Hunnewell Winthrop, or "Billy," who uses her deceased husband's money to open a Beverly Hills clothing store called, well, Scruples. It was turned into a Warner Bros. miniseries starring Lindsay Wagner and Barry Bostwick back in 1980. Warners still holds the rights after all these years and will also be producing this version. Writers Bob Brush and Mel Harris are penning this new adaptation.
While the story doesn't specifically suggest it, I can't help but wonder if Portman might be thinking about starring in the pilot as well. Wagner was around Portman's age when she played Billy in the miniseries, so the timing is right. The lines between traditionally "movie actors" and "TV actors" are also blurring more and more these days, thanks in part to high-profile cable dramas, so this might be an opportunity for Portman to give the boob tube a spin. Then again, given how busy she is on the big screen, I don't know that she has time to commit to the small one.
Your Daily Blend of Entertainment News
Your Daily Blend of Entertainment News
Thank you for signing up to CinemaBlend. You will receive a verification email shortly.
There was a problem. Please refresh the page and try again.