Nerdist News Show With Chris Hardwick Being Developed By Syfy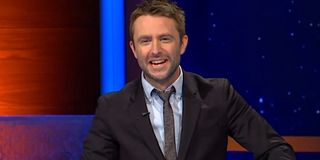 Attention nerds and geeks everywhere... Syfy is, yet again, attempting to break into the news show space. After unsuccessfully trying to tap the market last year with host Wil Wheaton, the network is apparently giving it another go round, this time working with Nerdist creator Chris Hardwick.
The Syfy cable network, owned by NBCUniversal, announced last night that it is teaming up with Hardwick to develop a weekly Nerdist News television series. The potential series, which is currently only in the pilot stages, aims to cover a variety of topics including fantasy, science fiction, gaming, tech, science and movies and sci-pop culture. According to Variety, the weekly half-hour Nerdist News show-in-the-making will have the same tone and feel as its online YouTube counterpart hosted by Jessica Chobot. Word also has it that Hardwick and his Talking Dead cohort Brandon Monk will exec produce the pilot through, yep you guessed it, Nerdist Industries.
So, while this sounds very promising to say the least, there is a bit of bad news. Hardwick is not going to act as host and there is still no word yet as to who will take on the gig in question. Those of us who are fans of Hardwick would of course love to see him take on the duties but, with the project being close to the Nerdist brand, we're sure they'll find someone who'll make for a good fit.
Syfy's last attempt in the news show space, The Wil Wheaton Project launched back in May of 2014 but didn't fare all that well. While the former Star Trek: The Next Generation and Big Bang Theory actor seemed like a good fit for the weekly geek sci-fi news show, viewership numbers just couldn't justify its continued existence. The Soup-like series was cancelled only months after it began—something which the well-known blogger, podcaster and self-proclaimed geek blames on the New York execs who didn't "understand what kind of show we were doing, who I was and why I was hosting it, and how to engage with and promote to the audience who would like it."
Wheaton may not be dead in the water yet, however, as he and Hardwick actually go way back. And, believe it or not, Hardwick even appeared on the first episode of Wheaton's show. Could Hardwick return the favor? I guess, we'll soon find out.
We have faith that if there is an audience for this type of geek-culture news show, Hardwick is the best man to task with the job of finding it. If the pilot for Nerdist News moves forward to series, Hardwick would have to balance three series (@midnight, Talking Dead), all of which are on different networks.
Your Daily Blend of Entertainment News