Netflix's House Of Cards Plagued By Budget Issues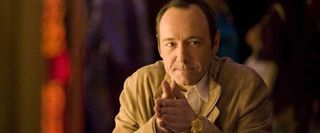 Netflix has really pushed the original-series thing over the past few months, with Lilyhammer becoming the streaming service's first series to make its mark. Following closely is Netflix's House of Cards, an expensive, high-profile series set to star Kevin Spacey and involve David Fincher, which was set to begin filming in March.
Recently, however, the filming of House of Cards was pushed back a month to April, but now a snafu might force the show's production back even further, or cancel it entirely. To give you a little background, House of Cards was never intended as a cheap little series. With David Fincher at the helm of the ambitious series about a politician's corruption, and heavy-hitters such as Spacey, Kate Mara, and Corey Stoll filling out the cast, the show was expected to cost more money than your average endeavor. Netflix didn't flinch, giving the show a budget of $100 million for 26 episodes.
So, if House of Cards got its money, why the hullaballoo? According to THR, Fincher has threatened to quit the project due to issues over budget. While $100 million might seem like a lot of money, for a finicky director who has proven time and time again that he likes to get shots exactly right -- the first scene in The Social Network was shot 99 times -- it really is no surprise Fincher may want more money in the pot. Whether or not Netflix and production company Media Rights Capitol will be able to reach an agreement with the director and producer remains to be seen. If they don't, however, the future of House of Cards is as uncertain as the future of Netflix itself was just a few months ago.
Your Daily Blend of Entertainment News