Netflix Won't Even Tell House Of Cards' Creator How Many People Watch It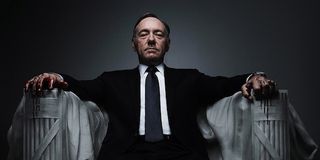 There's always been a bit of mystery surrounding viewership on Netflix. Traditional TV ratings are discussed and debated in any number of forums, but the streaming content giant has always kept thing close to the vest, especially regarding their own episodic narratives. In fact, the creator of one of their most popular shows says he has no clue how many people have watched his product.
Talking to The Hollywood Reporter, Beau Willimon, creator and showrunner of Netflix's political drama House of Cards, has never received any sort of viewer numbers from the execs at the company. He says:
With entire seasons dropping all at once, as is Netflix's usual method of operation (though that is changing by degrees), and with a new, non-traditional delivery system, there isn't as much public data regarding streaming-only shows, like House of Cards and Orange is the New Black, or those like Transparent on competitor Amazon.
When a new season of a popular show arrives, it certainly seems like a big deal. When season 3 of OITNB debuted just last week, damn near all anyone on social media wanted to talk about was that fact. Still, for as much chatter as these shows generate, we don't know how they stack up, numbers wise, with other big shows in the marketplace.
For his part, Willimon doesn't seem all that worried about not knowing specifically how many people watch House of Cards. He adds:
There have been reports that Nielson will start tracking viewers on Netflix, Amazon, and other streaming services, but thus far, that has yet to gain any serious traction. It will likely happen eventually, but not yet. However, there is some movement in this realm. Shortly after Netflix debuted their gritty Marvel series Daredevil back in April, a survey came out that indicated that 10.7% of U.S. subscribers tuned in to at least one episode of the superhero drama within the first eleven days, which equates to roughly 4.3 million viewers.
But Willimon has a point. Cable has never had the same use for ratings that traditional network TV has, and it doesn't appear that streaming content providers do either. Or at least they don't put as much emphasis on the raw data as competitors. In the end, if new outlets keep wanting more, that's what really matters, and as long as they continue to allow creators and writers opportunity and freedom they don't find elsewhere, they're going to continue to attract talent and their part of the market share is only going to increase.
Your Daily Blend of Entertainment News