Nick Cannon Brings Drumline Sequel To VH1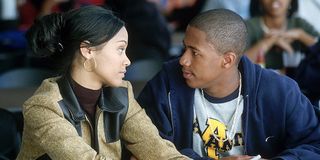 Where Nick Cannon leads, Viacom follows. It was announced today that one of the entertainment mega-corporation's subsidiary networks, VH1, has given the green light to a TV movie sequel of Drumline the popular 2002 film. Cannon will star in and executive produce the sequel, currently titled — albeit a working one — Drumline: A New Beat that's said to have a more female bent to it.
Drumline: A New Beat is said to focus on a Brooklyn girl named Dani Bolton, an upper-classer with all the fixings. In its new iteration, Drumline will follow Dani's enrollment at a fictional New Orleans university with the intent of joining, and subsequently revitalizing, their once great drumline program. Dani will find herself on a mission to become the school's first-ever female section leader of the drumline, though it's likely it won't be so easy along the way. Dani will have to battle stick-in-the-mud upperclassmen and a rival university, all while trying to suss out her feelings for a fellow band mate and subsequent rival for the top, Jayven.
"Drumline was not just a successful film; it was a cultural happening," Cannon said, according to The Hollywood Reporter. "Even though it was released over a decade ago, I am constantly approached by people on the street who tell me how much of an impact it made on them. As a producer, my thought was, 'How do we create an updated version that would translate to today's audience and still feel fresh and original?' Adding a female lead character really makes sense and VH1 is the perfect network to partner with on this modernized take on what is considered a unique and classic film experience. "
Cannon won't be the only executive producer on the project: Wendy Finerman, Jody Gerson and Dallas Austin are all set to produce the feature alongside the Wild 'N Out and America's Got Talent star/host. Scribes Regina Hicks and Karin Gist will tackle the script, with a tight turnaround to boot: production is set to begin in the spring, with a fall 2014 premiere date anticipated. No word if his wife Mariah Carey will join in on the fun.
Music-centric TV movies have done well for VH1 in the past. Prior to picking up Drumline: A New Beat, the network saw success with a TLC biopic in 2013 titled CrazySexyCool. The film ended up being the highest-rated cable movie of 2013 among the network's demo-sweet-spot: adults 18 – 49.
"Drumline has become one of those beloved cornerstone films for a generation, always generating high ratings when we air it on VH1," stated VH1 Executive Vice President of Original Programming and Production Susan Levison. "We're beyond excited to revisit that Drumline magic with Nick Cannon, Wendy Finerman, Dallas Austin and Jody Gerson to create a film that features a strong, relatable storyline, great music and a little nostalgia — all of which viewers have come to expect from a VH1 original movie."
Your Daily Blend of Entertainment News
Thank you for signing up to CinemaBlend. You will receive a verification email shortly.
There was a problem. Please refresh the page and try again.