Nick At Nite Is Making A Huge Change, Get The Details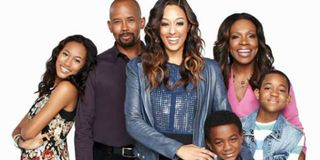 The times, they are a changing. At least that appears to be the case over at Nick at Nite. What once was a programming block featuring all classic television that began airing after the Nickelodeon kiddies were theoretically sent to bed for the night had turned into yet another arm within the Nickelodeon networks focusing on original scripted programming for the family. That appears to be changing as Viacom has just announced that Instant Mom will be cancelled following the end of its third season, effectively ending Nick at Nite's current efforts at original programming.
The network informed the cast and crew that the series would not be renewed for a fourth season. Instant Family, starring former Tia & Tamara co-star Tia Mowry-Hardrict, had become the most prolific Nick at Nite original comedy tying the network's first, See Dad Run, at three seasons a piece, but actually bested that show's episode count of 50 with 65 of its own. With the cancellation of Instant Family, the network has no other original programs on the air, signaling that Nick at Nite may be changing its focus once again.
Can anyone honestly tell me the difference between TV Land and Nick at Nite anymore? Anyone? When I was a kid, I looked forward to when Nickelodeon's broadcast day would end and Nick at Nite would begin and entertain me with such classic television fare as Mr. Ed, Dobie Gillis, and The Donna Mills Show. Then came new channel TV Land, which seemed like a 24-hour version of Nick at Nite. Then, the folks at Nick decided to dip a toe into original programing. Most recently, parent company Viacom underwent a restructuring whereby TV Land came under the supervision of Nickelodeon chief Cyma Zarghami marking a shift from previous overseer Doug Herzog. Throw some NickMom in the mix and take into account the cross pollination of programming betwixt all networks, and if you're now thoroughly and completely lost as far as what's going on at Nick, CONGRATULATIONS! Me too.
The Nickelodeon / Nick at Nite / TV Land / NickMom / Nick Jr. / TeenNick / NickToons Kids and Family group seems to be largely in flux, save Nickelodeon, whose original animation has been off the charts good in recent years. Similarly, TeenNick seems to have locked in on its identity with the recent announcement of "The Splat" block of early 90s programing that will air overnight on the network in a similar fashion to Nick at Nite. Other than that, the rest of the Nickelodeon family of channels seems to be struggling to adapt to the rapidly changing cable television landscape. TV Land continues to offer a mix of original scripted fare, such as The Jim Gaffigan Show, which debuted to exceptional ratings and has become a hit, both for the network as well as Comedy Central, which airs repeats of the series.
What direction will Nick at Nite go towards? Deadline reports there were several projects in various stage of development, but it is unclear whether those projects will be outright abandoned, or perhaps shifted over to TV Land. Nick at Nite will likely continue to show large blocks of shows like Everybody Loves Raymond and The George Lopez Show, which consistently bring in a solid viewership.But, for now, original programming is out.
Personally, I think the network could use its own late night talk show. Why not join the fray? My vote: bring back The Pete Holmes Show.
Your Daily Blend of Entertainment News
Thank you for signing up to CinemaBlend. You will receive a verification email shortly.
There was a problem. Please refresh the page and try again.