Oblivion's Karl Gajdusek Developing Sci-Fi Drama The Spark For HBO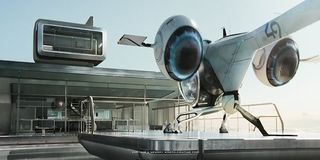 To say HBO's had success with the fantasy genre would be putting it mildly, when taking Game of Thrones into account. But how would the premium cable channel do with a full-on sci-fi drama? We may find out. Karl Gajdusek is developing a drama called The Spark, which aims to explore what he calls the five pillars of science fiction: Alien Contact, Artificial Intelligence, Technological breakthroughs, Space Exploration/Adventure, and Origin stories.
Deadline posted the news, stating that The Spark is set in the near future as the world is undergoing a "technological/industrial revolution." The planet is contacted by a signal from somewhere outside the solar system, and the story follows the human reaction to "a mystery still spiritually and technologically out of reach." There's also a female character who's working closely with Earth's efforts to figure out where this signal is coming from.
Gajdusek's last TV project, the submarine drama Last Resort, went to series, but unfortunately didn't make it through its first season. On the feature side, Gajdusek had some recent success with writing the screenplay for Oblivion, which made it to the big screen in April. Also among his credits are a few episodes of Dead Like Me, so he has some experience with premium cable under his belt.
It's exciting to hear that HBO's looking into the sci-fi genre. Granted, it sounds like The Spark is in its early stages of development, but looking at Game of Thrones in terms of the quality of production makes me wonder what the pay cable channel could do with a semi-futuristic sci-fi drama. And HBO's not the only premium cable channel that could be taking sci-fi television to the next level. Spartacus creator Steven DeKnight has his own sci-fi drama, titled Incursion in contention at Starz. Fingers crossed that either or both of these projects move forward.