The Office Finale Character Updates: Where They Are Now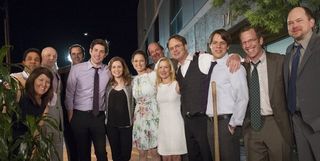 Like any great series, the heart of The Office was in its characters. Sure, we've waited years to learn the full story behind the documentary, and the workplace humor certainly struck a chord for anyone who's ever worked in an office. But at its core, The Office has always been about its characters and the finale that aired last night did a great job of giving us an update on many of them. But there was a lot packed into the hour-and-fifteen-minute episode, so we thought we'd do a run-through of where the series left everyone in the end.
Finale spoilers ahead!
Jim and Pam: Their house is sold. They quit (or were technically fired) Dunder Mifflin and are set to leave Scranton with large severance packages and a plan to move to Austin where Jim will reteam with Darryl on their sports marketing business, Athleap.
Darryl: Clearly, business has been going well for Darryl, who arrived in Scranton looking well dressed and happy, and took a limo to the office, suggesting his money situation is really good. As happy as Darryl seems in his current situation, he wasn't above being nostalgic about spending time with his old friends at Dunder Mifflin.
Michael: It's revealed at the wedding that Michael and Holly have multiple kids. In fact, Michael has so many photos of them that he needs two phones to hold them all. But it's probably more that Michael was eager to sign up for a family plan at his cell phone service, because he has a family now. That's just Michael.
Dwight and Angela: They're married! They already have a child, but something tells me there will be more on the way. Dwight's running Dunder Mifflin Scranton and he's doing it rather efficiently. He's even decent enough to offer severance and cakes to the people he fires.
Andy: Andy got the fame he was searching for, only it came at the price of his dignity. The video of his audition for the a cappella show, in which he broke down and cried, went viral, resulting in parodies, a "Weekend Update" segment and an auto-tune remix. But Andy turned it all around for himself by doing the commencement speech at Cornell. He was invited to do it as a joke, but he used his own story to his advantage in the speech and earned himself a job on the admissions board at the school. Given what we know of Andy and his Cornell pride, it really is a dream job.
Toby: Toby was also fired. A move Michael probably would have appreciated, had he been there. I was convinced for a long time that Toby was the Scranton Strangler, and there's probably some part of me that will always wonder. Alas, it was never proven. Toby's moved back to New York and seems fairly miserable, though his co-workers did cheer him up in the end by insisting that he join them for the after party.
Creed: He's been on the lam since it came out that he was peddling drugs and trafficking endangered species meat. That's probably the tip of the iceberg for Creed. He established himself a new identity, but the law caught up with him at the end of the finale and he was hauled off in handcuffs. I like to think he's established himself really well in prison and is doing just fine on the inside.
Kelly and Ryan: When they left the series, they were separated. And they arrived separately for the finale. Kelly's still with her boyfriend and Ryan is a single dad to a really cute baby. The two rekindled their passion at the wedding reception and ran off together, leaving Ryan's baby Drake (not named after a 2011 artist) behind.
Nellie: We knew Nellie was trying to adopt a child, to no avail. These days she's been living in Poland, though she came back for the wedding, and it worked out well that she did. She was all too happy to take Ryan's abandoned baby. I can only imagine how she'll get him out of the country. Normally I'd say she should talk to Creed about that, but that's not an option. So let's just say she goes through legal channels and adopts the child.
Stanley: Stanley has retired and moved to Florida, where he lives near the everglades by himself (he's divorced) and whittles things all day. It sounds like the absolute dream life for Stanley, who was always a fan of leisure.
Phyllis still works at Dunder Mifflin and now has a new desk mate. She feeds him a lot, likely trying to turn him into her new Stanley. She and real-Stanley shared a sweet moment at the wedding as they danced together. And Stanley gave Phyllis a likeness of herself (with bird legs), which he whittled. An indication that he misses seeing her across the desk as much as she misses him.
Meredith: If she's to be believed, she was getting her PhD in psychology the whole time the documentary was being filmed. But she's still working at Dunder Mifflin. Her son Jake appears to be on the rise as a male stripper in Scranton, with his mother's full support. Too much support, really.
Kevin: He was never very good at his job, so his termination was probably long overdue. In fact, it was established back during the second season that the accounting department was overstaffed, so Dwight's choice may be an indication that he's actually making things run more efficiently at the office. Kevin has since purchased a bar, and from what we could tell, it looked like business was doing just fine.
Oscar: He's running for senator! It's kind of fitting, giving his relationship with Angela's ex-husband. And after a conversation with David Wallace at the wedding, it looks like he's found himself some serious funding for his campaign.
Erin: Erin found her parents! Or they found her, anyway. They showed up at the documentary reunion panel and revealed themselves. They were later seen with her at the wedding, which indicates that they're going to be a family now. No reason for why they gave her up was mentioned, but for the sake of the story, it doesn't really matter. Erin was due for this.
Read our full breakdown of The Office finale here.
Kelly joined CinemaBlend as a freelance TV news writer in 2006 and went on to serve as the site's TV Editor before moving over to other roles on the site. At present, she's an Assistant Managing Editor who spends much of her time brainstorming and editing feature content on the site.
Your Daily Blend of Entertainment News
Thank you for signing up to CinemaBlend. You will receive a verification email shortly.
There was a problem. Please refresh the page and try again.