The Office: Jim Halpert And Pam Beesly's Relationship Timeline Told In 45 Episodes
A timeline of Jim and Pam's love story through key episodes.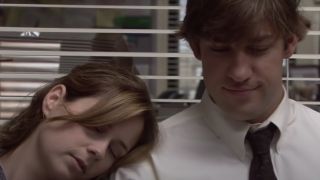 (Image credit: NBC Universal)
If you're a serious fan of The Office and have a Peacock subscription, there's a good chance you've run into the same problem I have: How many times can I cycle through the entire series from beginning to end? The answer: DunderMifflinfinity, obviously. (Nailed it.) But if you want to try to watch the series a different way, we've got you covered with this little (ok, giant) playlist of episodes centered around Jim Halpert (John Krasinski) and Pam Beesly's (Jenna Fischer) relationship, covering the timeline of their love story from beginning to end.
This might go without saying, but we'll say it anyway. This list of episodes includes major spoilers from The Office. This episode playlist -- which includes some of the best episodes of The Office, as far as I'm concerned -- is not meant for someone who's new to the series. If you've never seen The Office, we suggest you start with the pilot and move forward in the traditional way. You can find the whole series streaming on Peacock.
Moving on, I've broken this Office playlist of episodes down by different stages of Jim and Pam's relationship, beginning with their friendship/flirtmance and moving all the way through the ups and downs of their relationship, which occasionally involved some of the other great characters in the cast of The Office.These aren't all of the episodes that feature a great Jim and Pam moment, but if you start with the first episode on this list and watch your way through to the last, you'll end up witnessing the main bullet points and milestones of Team Halpert's epic romance.
Jim and Pam - Just Friends
These are the episodes that showcase Pam and Jim's friendship and budding romance before it was officially a romance.
Pilot (S1E1)
The first episode of the series doesn't hide the fact that there's a connection between salesman Jim Halpert and receptionist Pam Beesly. Plus, it just makes sense to start at the start. Watch The Office Pilot here.
The Dundies (S2E1)
Pam gets drunk at the Dundies, gets banned from Chili's and somewhere in between, plants a firm kiss on Jim's lips. Their first kiss? If you want to count it as such, sure. Still, it's a significant (and hilarious) little moment, if only to watch a flustered Jim quickly attempt to act casual afterward. Watch "The Dundies" here.
The Client (S2E7)
After a table-reading of an early draft of Threat Level Midnight, Jim and Pam have dinner on the roof. Fireworks and dancing (kind of) ensue. Watch "The Client" here.
Christmas Party (S2E10)
Pam gives up the opportunity to own a video iPod in exchange for the teapot Jim intended her to have for Secret Santa/Yankee Swap. While the iPod probably seemed like the better deal in the moment, the teapot's relevance stands the test of time in the series. Watch "Christmas Party" here.
Booze Cruise (S2E11)
During a rare heart-to-heart between Jim and Michael, Jim admits he used to have a thing for Pam. This is the episode where Jim dumps Katy, and Pam and Roy decide to finally set a date. Watch "Booze Cruise" here.
The Secret (S2E13)
Michael with a secret is like a ticking time bomb. Jim has to tell Pam about his crush on her… kind of. Watch "The Secret" here.
Casino Night (S2E22)
This is a big one. With an opportunity to transfer to Stamford and Pam's wedding coming up, Jim has nothing to lose by telling Pam how he really feels. It's not only a great episode, but an epic moment in the saga that is Jim and Pam's relationship throughout the series. Watch "Casino Night" here.
Gay Witch Hunt (S3E1)
We get the aftermath of Jim's confession to Pam. And now he's in Stamford and she's un-engaged and not married. Watch "Gay Witch Hunt" here.
Initiation (S3E5)
Honestly, the Jim/Pam moment in this episode is small, but significant nonetheless. It's just a phone conversation, but it's a reminder that there's unfinished business between them and that they miss each other. There's undoubtedly distance between them at this point, but the chemistry is still there (even over the phone). Watch "Initiation" here.
The Merger (S3E8)
Well, well, well, how the turntables… Once upon a time, it was Jim pining for Pam while she was in a relationship with someone else. In "The Merger," Pam finds herself on the other side of that when she learns that Jim is seeing someone (Karen.) Watch "The Merger" here.
The Convict (S3E9)
This episode is great, if only to witness the awkwardness of Jim and Pam trying to find a new groove. When Andy asks for tips about how to get close to Pam, Jim pranks her by giving him all the wrong information. Watch "The Convict" here.
Benihana Christmas (S3E10/11)
Fancy new Halpert is too grown-up for pranks. This one is another example of Jim and Pam fumbling in their attempts to recapture their previous friendship. Pam offers Jim a pre-made prank on Dwight and he declines it… at first. Watch "Benihana Christmas" here.
The Return (S3E14)
After Karen finds out that Jim once had a thing for Pam, he tries to do damage control. It's pretty much the beginning of the end of their relationship, though neither of them know it at the time. Watch "The Return" here.
Benjamin Franklin (S3E15)
Another awkward encounter ensues when Jim tries to tease Pam about the Benjamin Franklin impersonator who flirted with her. This one feels important to include, if only to reveal the uncomfortable tension between Jim and Pam at this point. The fact that the just can't joke about this kind of thing without it being strained and awkward is a major indication that there are still unresolved feelings. Watch "Benjamin Franklin" here.
Phyllis' Wedding (S3E16)
Jim and Karen seem to get back on track in this one. And Pam decides to start over with Roy. And Brangelina is with Frangelina. Moving on... Watch "Phyllis' Wedding" here.
Cocktails (S3E18)
Pam is not the same old Pammy she used to be. (And don't call her Pammy.) Pam tells Roy that Jim kissed her during Casino Night. He doesn't take it well. Watch "Cocktails" here.
The Negotiation (S3E19)
The tension between Jim and Pam is taken to the next awkward level when Roy attempts to attack Jim at the office. There's just no pretending that everything is normal between them anymore. Watch "The Negotiation" here.
Beach Games (S3E23)
Remember when Jim told Pam how he felt? Well, now it's Pam's turn. After months of awkwardness, Pam cuts through the tension with one great fireside speech about missing her friendship with Jim. Watch "Beach Games" here.
The Job (S3E24/25)
This is a make-or-break episode for Jim and Pam's relationship. Once again, Jim's looking at the possibility of leaving Scranton. The corporate job in New York would certainly be a step up for him, but there's a whole other future awaiting him back home. Watch "The Job" here.
Jim and Pam's dating years
Jim and Pam are finally together. These episodes break down the highs and lows of their relationship in its dating stage.
Fun Run (S4E1/2)
Not only does this episode show us what Jim and Pam look like when they're finally, happily in a relationship, we also get a bit of the aftermath of Jim's breakup with Karen. "Fun Run" also includes a rare moment where the camera crew gets involved, in this case by showing Jim and Pam the footage of them secretly meeting up after work. Watch "Fun Run" here.
Dunder Mifflin Infinity (S4E3/4)
The one where everyone finds out. Watch "Dunder Mifflin Infinity" here.
Money (S4E7/8)
Jim and Pam take their first vacation together. Because what's more romantic than an escape to Schrute Farms? Watch "Money" here.
Dinner Party (S4E13)
That one night when Michael and Jan exposed Jim and Pam to their complicated relationship (to put it mildly). Amidst that mess were some great moments between Jim and Pam, like the time he tried to ditch her because his apartment was flooded or on fire or whatever lie they made up to try to leave. It's ok, Jim makes it up to Pam by stealing Hunter's CD. Watch "Dinner Party" here.
Chair Model (S4E14)
Jim and Pam aren't the main focus of "Chair Model" at all, but they do share a couple of huge moments. This is the one where Jim warns Pam that he's planning on proposing to her. And later, he hilariously fakes her out by kneeling to tie his shoe. Watch "Chair Model" here.
Goodbye Toby (S4E18/19)
This should've been the episode where Jim proposes to Pam, but alas, Andy stole that moment for Angela. Weirdly, it's kind of perfect in a ridiculous totally-Office kind of way. Watch "Goodbye Toby" here.
Jim and Pam: From The Engagement To The Wedding
We knew it was a matter of time before Jim and Pam were finally engaged and then married. But there were some unexpected twists along the way…
Weight Loss (S5E1/2)
Are we really going to have to wait for Pam to finish art school before they're engaged? As decided by Jim, no. The big proposal happens in this two-parter. Watch "Weight Loss" Part 1 here.
Crime Aid (S5E5)
"Crime Aid" features a small but significant moment for Jim and Pam. After a conversation with Roy, Jim almost drives to New York to check in on Pam. And then he doesn't. Because they're not that couple. Watch "Crime Aid" here.
Employee Transfer (S5E6)
Pam teams up with Jim's brothers to try to prank Jim when he comes to visit her in the city. It backfires hard, but we do get to see Pam and Jim together in a bit of the world that doesn't actually involve work. Watch "Employee Transfer" here.
Frame Toby (S5E9)
While Toby is at the center of this episode, Jim steals the show when he reveals to Pam that he bought his parents' house for them.The sweetness of the moment mixed with the anxiety of waiting for Pam's reaction is a great bullet point in where they're at in their relationship at this point. Watch "Frame Toby" here.
Stress Relief (S5E14/15)
"Stress Relief" has Pam stressing over her parents' marital issues, which are seemingly made worse after Jim has a conversation with Pam's dad that leads him to leave Pam's mother. Just when it's looking like maybe Jim and Pam are in big trouble, we find out what Jim actually said. Watch "Stress Relief Part 1.
Cafe Disco (S5E27)
While Michael is attempting to turn the old Michael Scott Paper Company office into a disco, Jim and Pam are planning to elope. They're so close to hitting the road, but a bit of dancing makes them realize what they'd be missing out on if they were to forgo an actual wedding. Watch "Cafe Disco" here.
Company Picnic (S5E28)
Jim and Pam's impending wedding seems like the next big thing to come for the couple, which is probably why we never saw the surprise pregnancy coming. That reveal happens at the end of this episode, and it's probably one of the most quietly beautiful moments of their entire story. Watch "Company Picnic" here.
Gossip (S6E1)
Of course Michael Scott would be the reason Jim and Pam have to reveal that they're expecting. Amidst a mess of mostly untrue rumors, Jim and Pam volunteer the pregnancy reveal to cover up a true and potentially life-ruining rumor Michael started about Stanley. Watch "Gossip" here.
Niagara (S6E4/5)
This is a big one. In fact, the two-parter "Niagara" is among the biggest episodes of the series. Jim, Pam and the Dunder Mifflin Scranton staff head off to Niagara Falls for the wedding. Watch "Niagara Part 1" here.
Marriage, Kids and Difficulties…
Marriage is just the beginning for Jim and Pam. In this next block of episodes, we see Jim and Pam become parents, deal with family life and face some major challenges as Jim's career goals don't fall in line with Pam's vision for her family's future…
The Delivery (S6E17/18)
Another milestone episode for Jim and Pam, baby CeCe makes her grand arrival. Watch "The Delivery Part 1".
PDA (S7E16)
We're jumping forward quite a bit in the timeline here. Jim and Pam realize they've never been intimate at the office, get drunk and try to change that. It's not a major moment in their relationship, but it is sort of a marker for where they're at by this point in the series. They may be married, but they haven't lost that spark. Watch "PDA" here.
Pam's Replacement (S8E7)
Pam's headed out on maternity leave for the birth of their second baby, and a temp, Cathy, arrives at the office to take her place. It's an intro to a character who proves to be a potential threat to the Halpert marriage. Watch "Pam's Replacement" here.
Jury Duty (S8E13)
We get a glimpse into the chaos that is family life for the Halperts after Jim lies about having jury duty so he can stay home and help Pam out. Watch "Jury Duty" here.
After Hours (S8E16)
While Jim is in Tallahassee, Cathy makes it pretty clear that she's trying to put the moves on him. And he's not having it. Watch "After Hours" here.
Roy's Wedding (S9E2)
It turns out, moving on from Pam worked out really well for Roy. While Pam processes just how much her old flame has changed since their relationship, Jim is sitting on a pretty major secret about his career. Watch "Roy's Wedding" here.
Customer Loyalty (S9E12)
While Jim is in Philadelphia, Pam messes up the recording of CeCe's recital. He's so upset by this that Pam ends up not getting to tell him about the mural she's been selected to paint. It's a heartbreaking episode, but a crucial one to show just how strained things are between Jim and Pam. Watch "Customer Loyalty" here.
Stairmageddon (S9E19)
Jim and Pam face marriage counseling. And Pam is determined not to move to Philadelphia. Things are in a pretty bad place for these two at this point. Watch "Stairmageddon" here.
Paper Airplane (S9E20)
Just when it seems like things are really, REALLY bad between Jim and Pam, they hug in the parking lot and we're given a clip from their wedding to remind us of the strength of their love and the vows they took. Watch "Paper Airplane" here.
Livin' the Dream (S921)
Jim has given up Athlead and moved back to Scranton to work on his marriage. He and Pam seem genuinely ok for the first time in a while. Watch "Livin' The Dream" here.
Happily Ever After…
It's the epilogue to the Jim and Pam story.
Finale (S9E24/25)
In the final episode of the series, Jim and Pam seem like they're really in a good place. After the documentary has aired, Dwight and Angela got their happily ever after, and things seem to be going well for everyone, we learn that Pam is secretly selling their house so that they can move to Austin and Jim can rejoin Athleap. This closes out the Scranton chapter of their lives and leaves their future open to our imaginations. Watch the Finale here.
Your Daily Blend of Entertainment News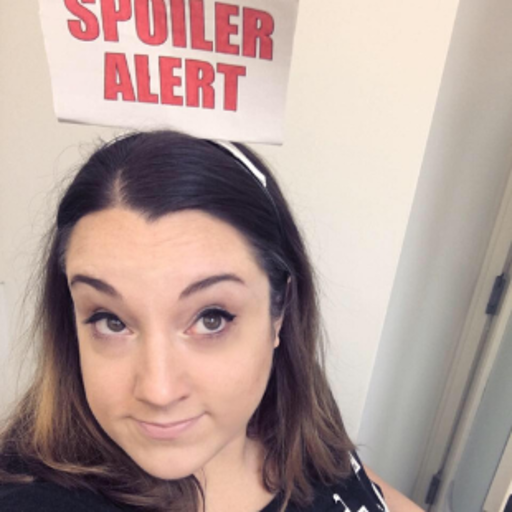 Assistant Managing Editor
Kelly joined CinemaBlend as a freelance TV news writer in 2006 and went on to serve as the site's TV Editor before moving over to other roles on the site. At present, she's an Assistant Managing Editor who spends much of her time brainstorming and editing feature content on the site.