The Office Reaction: New Leads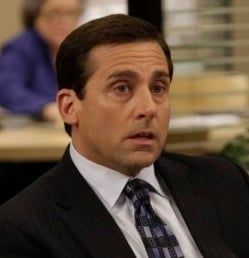 Tonight's episode of The Office brought us a new Scranton location and a divide among the staff as the egos of the sales team began to take its toll on the rest of the company. This resulted in one of Michael's not-so-brilliant plans falling apart and Toby was to blame for it.
Make friends first. Make sales second. Make love third… in no particular order.
We'll get to the reason as to how Toby ruined everything in a minute. Starting at the start, it seems the sales staff are all riding high on their newly upped priority status thanks to the people at Sabre realizing their potential to drive the company forward. Of course, this meant the sales team ducking out of meetings and generally looking down at the peons in accounting, quality assurance and customer service. Andy even attempted to belittle Darryl, whose presence in the office is definitely an added bonus to the show and thankfully wasn't wasted tonight. I'm not sure what was funnier, Darryl's nonplussed reaction to Andy's demand for a pencil or Andy's red pants, which were showcased nicely as he attempted to wrestle Darryl in his chair. I'd love to see a line-up of photos featuring the ridiculous pants Andy has worn over the years.
You need to get back on top. That's what she said.
Phyllis calling Michael numb nuts may have been the straw that broke Michael's back, which resulted in him withholding the leads that had been sent to him to distribute to Sales but it was Darryl's quiet encouragement and the lie he told about the sales staff, as a group, being responsible for smashing Michael's sandwich that did the trick. As he was required to hand out the leads, Michael decided to dangle the carrot that was their potential commissions in front of their noses with a little game. He had each of the non-sales staff members hide some leads and told the sales people they had to figure out how to get them. It was Michael's lame attempt to shift the power.
The result of the lead-hiding situation was a series of mostly humorous interactions between the Office characters. Jim called Pam to get her to help him figure out Michael's clues. As Pam was Michael's secretary for years and knows all about his "moppy place" and that he thinks the first American president is Lincoln, that was helpful. Meanwhile, Erin played hot-and-cold with Andy, which nearly resulted in Andy getting to second and third base with her. Angela gave Phyllis the task of filling out useless forms in exchange for her leads. Stanley was treated to a dramatic argument between Kelly and Ryan over the value of Keeping Up with the Kardashians. And Dwight attempted to strangle the location of the leads out of Kevin, the "man who never breeds."
This is where Toby's involvement comes in. As Toby ate Baba Ghanoush for lunch, Erin was kind enough to empty the trash to rid the kitchen of the smell. Kevin had hidden his set of leads in that garbage. The trash was picked up from the dumpster, taking the tossed-out leads with it to the dump. So as you can see, it's all Toby's fault. If he could've been content with pan pizza or make-your-own-salads instead of mashed eggplant, the leads would've still been in the office.
Today we are all kings… and queens.
That brings us to Dwight and Michael's argument at the dump. While picking through the mountains of trash (and inevitably scoring a giant bean bag chair that they actually think will be a boost to the décor of the office), they got into a squabbling match over their friendship. Earlier Dwight claimed he was the king of kings. His god-complex has actually taken him to the level of comparing himself to Jesus. Then again, Jesus probably didn't have six different phones, including a car phone.
Michael blamed Dwight for occupying all of his time by making him hang out and watch kung-fu movies. Dwight claimed he hitched his wagon to a horse with no legs and stated he could've been the number-2 at a Home Depot if he'd taken a different road. After chucking garbage at each other, they got over their frustration and went back to admiring some of the trash around them. They never did find the leads.
People love shells from faraway beaches.
Erin's right. People do love shells, don't they? But they love food even more. While Michael and Dwight were engaging in a trash-fight at the dump, Jim proved once again why he'd make a better manager than Michael by discussing the divide between Sales and everyone else with the Sales people. After passing on the suggestions to give iPods or shells to the rest of the staff, in an effort to make amends, they settled on giving a portion of their commission to everyone in the office. But when they invited the staff into the conference room to enjoy some complimentary pastries, Jim decided not to present the offer. Everyone was so happy with the free donuts that a financial incentive wasn't necessary.
Riddit-dit-dedoo
Some might consider Jim and Pam's first kiss to be the "Dundies" episode when Pam drunkenly planted one on Jim's lips after a few too many but the kiss that counts was the one that followed Jim's "Casino Night" confession. Tonight, Andy and Erin had their "Casino Night" moment, only theirs was at the dump. After Erin offered Andy her coat, the two exchanged a sweet kiss amidst all the garbage.
I don't think they found the leads either.
For those of you who want to see some actual Pam (as opposed to just getting Pam-on-speakerphone), below is a photo from next week's episode.
Nice hat, Michael.
Assistant Managing Editor
Kelly joined CinemaBlend as a freelance TV news writer in 2006 and went on to serve as the site's TV Editor before moving over to other roles on the site. At present, she's an Assistant Managing Editor who spends much of her time brainstorming and editing feature content on the site.
Your Daily Blend of Entertainment News
Thank you for signing up to CinemaBlend. You will receive a verification email shortly.
There was a problem. Please refresh the page and try again.