The Office Reaction: Secretary's Day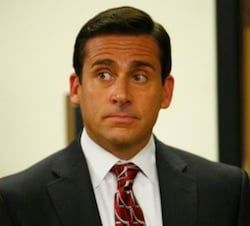 I don't know what's creepier, Meredith enjoying a bit of recreation time in the bathroom with Pam's breast pump or Dwight's offer to milk Pam before her breasts exploded. "Three squeezes and I would drain you." Yes! The Office is back and diving into a new well of jokes as Pam returns from maternity leave and Kevin's made out to be the office Cookie Monster.
Before we get to the big, blue monster in the room, let's talk about Erin. Yeah, she's a little weird but so far, her quirks have been more along the adorable lines than that of the creepy, cake-throwing, emotional-outbursting girlfriend we saw tonight. I don't know what it is about that teary pout of hers that makes me laugh but it's brilliant. I find myself feeling sad for her when she makes that face and also feeling a little afraid of her. Sure, we could dig into her psyche and say that beneath the sweet, giggly exterior lies a damaged, emotionally unstable foster child, but that only seems to make her more perfectly fitted for Andy, who's a bit on the damaged side himself.
This week's installment of the Andy-Erin drama started with Michael taking Erin out for lunch to celebrate Secretary's Day. Michael treated the gesture as more of an uncomfortable obligation that was a bit reminiscent of the blind date he went on with Pam's landlady a couple of seasons back. When he doesn't want to be stuck with someone, he's not very good at hiding it. It was evident from the start that that he wasn't interested in trying to humor Erin by engaging in her random conversations about how many pillows she sleeps on and the fact that she didn't have a desk in her foster home. Then when the subject of Andy came up, he mentioned Andy's relationship with Angela. Apparently, Andy hadn't gotten around to mentioning that he was engaged to one of their coworkers.
Erin reacted to this news by freaking out in the restaurant, and then freaking out even more at the office party Andy threw for her and chucking a piece of cake in his face while he was about to sing her a song. Though Andy made a valiant attempt to smooth things over, Erin decided that she needs some time to be alone. So they're done… for now. And in the end, Michael was actually able to be Michael for Erin and made her laugh with his silly jokes. It's funny to me that he's generally weirded out by Erin, given that she's exactly the kind of person to laugh at his jokes.
Speaking of jokes, Oscar made a video using Kevin's voice over a clip from Sesame Street. Given that Kevin spends plenty of time aimlessly puttering through his workday, complaining about people eating his M&Ms and rambling on about other food-related topics, Oscar had plenty of material to work with.
After everyone had a good laugh at the video, new-Sabre-guy-Gabe decided to step in and take on the Toby role of the office, ordering everyone to stop circulating, viewing and/or discussing the video or Kevin's Cookie Monster-like nature. Gabe's attempts to flex his authority (of which he had none) backfired after he suspended Jim, Pam and Dwight for three days, only to find out he wasn't allowed to do that. Pam checked in with Toby and confirmed this on her own. The timing couldn't have been more perfect as Gabe attempted to fix the situation by offering them a deal to trade their suspension for a simple apology. Pam and Jim opted to take the paid three-day vacation and while Dwight groveled for forgiveness, they took off to spend some time with their baby and get away from the office for a few days. Well played, Jam!
The rest of the office caught on to Jim and Pam's quick-thinking and promptly turned the ridicule they'd been offering Kevin all day, on Gabe. Even Kevin, whom Gabe had been trying to defend (though I think we can all agree that he was merely using the situation as an excuse to pretend to be in charge), joined in to poke fun at Gabe's stick-insect-like nature.
All in all, I'd say this Office ep was a winner. I'm just disappointed that I never made the easy connection between Kevin and Cookie Monster before. It's great to see the writers finding ways to tap into the core characters' quirks in such amusing ways.
Your Daily Blend of Entertainment News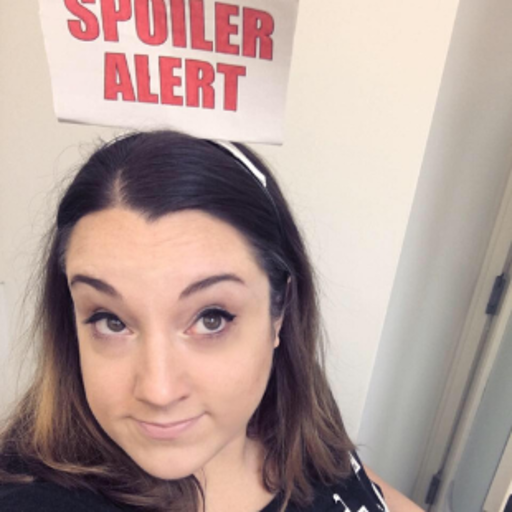 Assistant Managing Editor
Kelly joined CinemaBlend as a freelance TV news writer in 2006 and went on to serve as the site's TV Editor before moving over to other roles on the site. At present, she's an Assistant Managing Editor who spends much of her time brainstorming and editing feature content on the site.