Once Upon A Time Delivers Good Numbers For Its Second Episode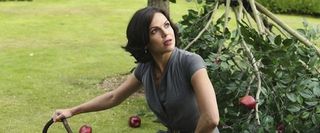 Once upon a time, Desperate Housewives was the ABC series boasting shiny red apples and big ratings. It looks like the new fantasy-drama series Once Upon a Time is poised to take over in both respects. The series aired its second episode last night and the early reports are showing strong numbers.
12.8 million viewers tuned in last week to watch ABC's series premiere of Once Upon a Time, earning the show a 3.9 demo rating. The drama series merges a fairytale world with our world as classic story characters have been cursed to live in a New England town called Storybrooke, where none of them seem to remember who they once were. Deadline posted the early numbers for the series' second episode, stating that "The Thing You Love Most" earned a 3.9 rating/10 share in 18-49. The site notes that last week's ratings were later adjusted up to a 4.0, and they expect last night's episode's rating to be adjusted up as well.
Once Upon a Time isn't the only fantasy series with cause to celebrate. NBC's new series Grimm, which follows a detective who learns he has the ability to see and hunt mythological creatures, took in 6.5 million viewers for its first episode. While that's not quite as high as what OUaT is bringing in, considering Grimm aired on a Friday night and was up against the World Series, Game 7, those are some pretty good numbers. It looks like TV viewers have a taste for story-book characters. It'll be interesting to see whether or not these ratings hold up beyond Halloween season.
Image ©ABC