10 Shows You Should Stream If You Like The Witcher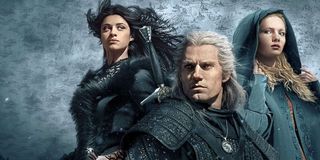 This past December, Netflix found another hit on their hands with their latest expansive, high-concept streaming series, The Witcher. The mature fantasy show, based on the book series of the same name by Andrzej Sapkowski, has already been renewed for a second season. Of course, given all the expensive sets, high-profile actors, and heavy special effects involved in the show's creation, it might take a minute before we return to The Continent. Therefore, TV lovers will need a few other TV shows to keep them occupied in the meantime. If you're looking for recommendations, we're here to help! While we listed a few shows available on Netflix worth seeking in a previous article, here are 10 other shows available on Netflix or another streaming platform that you might also enjoy if you really loved watching The Witcher.
(Obviously) Game Of Thrones (HBO Go)
Let's get this one out of the way, shall we? By now, especially if you're a fan of The Witcher, you have probably made a point to watch HBO's heavily-seen (and sometimes contentious) Game of Thrones. The groundbreaking fantasy series, based on the book series of the same name by George R.R. Martin, has played a big role in bringing shows like The Witcher into the forum and allowing other television providers with deep pockets to experiment with their own adult-focused fantasy TV shows.
It's a clear bid to play at their game, no pun intended. But when you get shows like The Witcher, there's no sense complaining. With a cast that includes Sean Bean, Nikolaj Coster-Waldau, Lena Headey, Emilia Clarke, Peter Dinklage, Kit Harington, Sophie Turner, Maisie Williams and many more, this record-breaking television event was a true cultural phenomena at its peak. And it's safe to note that Netflix hopes The Witcher achieves a similarly high-level of cultural adoration someday. Whether that happens or not, you can watch Game of Thrones in full on HBO.
Carnival Row (Amazon Prime)
A steampunk fantasy series based on the screenplay A Killing on Carnival Row by co-creator Travis Beacham, Carnival Row had a bit of a turbulent transition to the screen, notably with Guillermo Del Toro entering and exiting the project throughout its creation. Nevertheless, this Amazon Prime series gives fantasy lovers and noir fans alike an original, exciting new show to watch and hopefully love.
Centered around tensions growing between citizens and immigrants in a world filled with mystical creatures, along with a central murder mystery and other social ills causing troubles in this fractured society, Carnival Row is most certainly a timely and intriguing series, and it stars Orlando Bloom and Cara Delevingne as our lead characters. For viewers who like their fantasy series to have some of the grounded maturity seen throughout The Witcher, you'll find a lot to value in Carnival Row. All eight episodes of Season 1 are available exclusively on Amazon Prime (opens in new tab). Additionally, the ambitious show has also been renewed for a second season.
Vikings (Hulu)
Inspired by the sagas of Viking Ragnar Lothbrok, who is considered one of the most legendary Norse heroes in history, the History Channel's Vikings is the rare crossbreed of entertaining and informative. The action-adventure drama television program tells the exploits of these early Norse Vikings in an educational-yet-thrilling way. Therefore, it comes as little surprise that Vikings has steadily amassed a fine following throughout the years. The sixth and final season of the show aired its premiere back in December, but Netflix has already ordered a sequel series, Vikings: Valhalla, which you can expect to see sometime in the near future. For now, you can watch the first five seasons of Vikings on Hulu (opens in new tab) while the History Channel soon airs the final episodes of Season 6.
The Dark Crystal: Age of Resistance (Netflix)
A prequel series to the beloved 1982 Jim Henson movie, The Dark Crystal, The Dark Crystal: Age of Resistance is a beautifully-crafted 10-part fantasy series created in partnership with Netflix and the Jim Henson Company, and it has won over fans of the original movie and newcomers alike through its gorgeously-made and elaborately-produced puppet fantasy spectacle. While it's easily one of the most critically-acclaimed shows found on this list, it's not yet clear if (or when) it'll get a second season. Nevertheless, if you're a fantasy lover and you want a show with fantastic production design, strong world building, immaculate puppeteering, and lots of other talented people working to create a beautifully comprehensive vision, you should be sure to check out this show. The Dark Crystal: Age of Resistance is now available on Netflix (opens in new tab). Hopefully, we'll hear an update on Season 2 soon.
The Mandalorian (Disney Plus)
The first live-action series in the Star Wars universe, The Mandalorian was seen as a big selling point for Disney+, as well as a chance for the Star Wars universe to expand beyond its cinematic contributions. Thankfully, for many folks, the streaming series proved to be a roaring success. Created by Jon Favreau (Iron Man, 2016's The Jungle Book), and starring Pedro Pascal, Carl Weathers, Werner Herzog, Gina Carano, and meme-friendly "The Child," i.e. Baby Yoda, as itself, the show takes place several years after the events of Return of the Jedi and follows a bounty hunter during his exploits in the New Republic. Admittedly, if there is one show on here that you've already seen (besides Game of Thrones, of course), it's probably this one. Still, if you haven't had a chance to check out the brand new Star Wars streaming series, all eight episodes of its first season are now available on Disney+ (opens in new tab).
Grimm (Amazon Prime)
A cop procedural drama with a fantastical twist, Grimm is a detective series centered around a gumshoe who discovers that he is a Grimm, and the latest in a line of guardians meant to keep the balance between mythical creatures, known as Wesen, and humanity. Balancing both dark and whimsical elements together, in typical Grimm fashion, this former NBC series ran for six seasons before it met its end in 2017. But if you enjoyed The Witcher's blend of genres, including bleaker components, you'll find something to enjoy here. All six seasons of Grimm are available on Amazon Prime (opens in new tab).
Into the Badlands (Netflix)
An action-adventure wuxia series, Into the Badlands never quite captured the same intense viewership as some of its fellow AMC standouts, including Breaking Bad, Mad Men, and The Walking Dead, but it did grow a cult following — especially among martial arts fans — for its well-choreographed action scenes as well as its expansive storytelling. Starring Daniel Wu, Orla Brady, Sarah Bolger, Aramis Knight, Nick Frost, and more, if you like big, epic action sequences and lore-filled storytelling, you should give Into the Badlands a chance. All three seasons are currently available on Netflix (opens in new tab).
Britannia (Amazon Prime)
A nine-part historical fantasy series, serving as a co-production between Sky and Amazon Prime Video, Britannia follows the Roman conquest of Britain and a mysterious land that's ruled by both warrior women and powerful druids who can channel forces unknown from the underworld. Created by playwright Jez Butterworth and starring Kelly Reilly, David Morrissey, Mackenzie Crook, Zoe Wanamaker, and more, Britannia is the sort of fantasy drama series that should play well to The Witcher fans. Additionally, with only nine episodes in total, it's not a heavy commitment in the least. Suffice to say, if you're looking for something to keep you occupied before Witcher's new season, this should do the trick. Watch it in full now on Amazon Prime (opens in new tab).
Altered Carbon (Netflix)
A futuristic cyberpunk action-adventure drama based on the novel of the same name by Richard K. Morgan, Altered Carbon is an ambitious, expensive high-concept series from Netflix, much like The Witcher. Certainly, if you liked the expansive world-building of The Witcher, you'll appreciate the time, effort and skill put into this elaborately-crafted dystopia. Centered around the character of Takeshi Kovacs, played by Joel Kinnaman in the first season and Anthony Mackie in the recently-unveiled second season, Altered Carbon explores a world several hundred years into the future where the human consciousness can be transferred into different bodies. If you like the high-minded ambition of The Witcher, check out Altered Carbon on Netflix (opens in new tab).
Atlantis (Hulu)
A British fantasy-drama inspired by Greek mythology, Atlantis was a big hit overseas but it didn't quite capture that same enthusiasm in the U.S. But with all 25 episodes available to stream on Hulu (opens in new tab), this is your chance to catch up. Starring Jack Donnelly and Game of Thrones' Mark Addy as Hercules (what casting!), Atlantis only lasted two seasons (i.e. series) on the BBC, but you should have ample time to catch up with this fantasy-drama series before The Witcher returns with its second season.
These are only a handful of the fantasy series out there, available for your viewing pleasure, as you wait for the newest season of The Witcher. It might take a little while, as we noted before, so that should hopefully give you a lot of time to check out at least a few of these streaming-ready shows before the Netflix favorite returns. But these are only our recommendations, and we're sure you have a few shows that you know about too. Any series you recommend to hungry viewers who are chomping at the bit for another show like The Witcher? Let us know your picks in the comment section below!
Will is an entertainment writer based in Pittsburgh, PA. His writing can also be found in The Playlist, Cut Print Film, We Got This Covered, The Young Folks, Slate and other outlets. He also co-hosts the weekly film/TV podcast Cinemaholics with Jon Negroni and he likes to think he's a professional Garfield enthusiast.
Your Daily Blend of Entertainment News
Thank you for signing up to CinemaBlend. You will receive a verification email shortly.
There was a problem. Please refresh the page and try again.