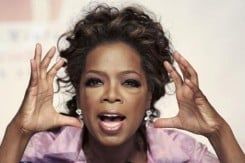 30 Rock sure is scoring with it's big names guest stars lately. First it was Jennifer Aniston, and now the Queen of Daytime – yes, I mean Oprah – is in talks to make an appearance! According to EOnline, it's going to be pretty early in the season too.
"Oprah is slated to appear in 30 Rock's episode 302, which is tentatively set to air Nov. 6. According to reliable insiders, the initial plan (subject to change) is that she will be playing herself, with all of her scenes opposite Tina Fey's fabulous Liz Lemon, and that her story would also play into a feud between Tracy Jordan (Tracy Morgan) and Jenna Maroney (Jane Krakowski) that will continue through several episodes."
So, is Oprah so enthralled with the show that she would stoop herself to appear on it? Has she ever appeared on a primetime show before? After a careful Google search, the answer is DUH – she was the "Therapist" on the episode of Ellen when Ellen came out of the closet. However, that is the only time she has appeared on such a show.
So, either she thinks the show is really groundbreaking, or her career needs a boost. You decide which it is.
Your Daily Blend of Entertainment News
Thank you for signing up to CinemaBlend. You will receive a verification email shortly.
There was a problem. Please refresh the page and try again.