Oprah, Schmoprah: Introducing The Norm MacDonald Book Club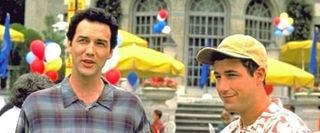 Norm MacDonald's career has always been a bit hard to predict. He's ranged from movie appearances to stand-up to indescribable appearances on Comedy Central's roasts to his current gig as the host of the appropriately titled Sports Show with Norm MacDonald. And let's not forget his genre-defining performance in Dirty Work. If ever there was a career turn I never would have seen coming, however, it could be summed up in five words: The Norm MacDonald Book Club.
Yes, Norm has taken to Twitter to begin an ongoing discussion of literature with his nearly 4,000 followers. First up: Robert Penn Warren's All the King's Men. I know, this is where I was expecting the punchline, too. But so far, at least, MacDonald seems to be playing this straight. The first post to the NormsBookClub account went up last Thursday, and since then Norm and his followers have been hashing out how the club will work and tossing out questions like "Best opening line to a book ever?"
Knowing MacDonald, this could all be some sort of elaborate, surreal performance art, but until such time as he pulls the rug out, it looks like Norm and his followers will continue unleashing their inner English majors. If you're interested, the discussion of All the King's Men is set to kick off on June 23, and until then Norm and company will be talking about "all things literary."
Your Daily Blend of Entertainment News
Thank you for signing up to CinemaBlend. You will receive a verification email shortly.
There was a problem. Please refresh the page and try again.