Oscars 2015: What Did People Really Think Of Host Neil Patrick Harris?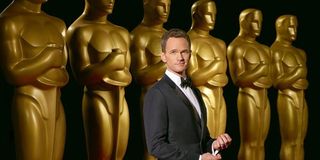 Each year, the Oscars gives a host—or in some cases hosts—a shot at running the behemoth awards show. This year, Neil Patrick Harris was given a shot as the host, bringing pizzazz, magic and a musical number to the 87th annual Academy Awards. As the host, Harris had both his fans and his detractors, but a recent poll indicates that a large chunk of people would be happy if Neil Patrick Harris did host the big shindig again.
Basically, if you weren't a huge fan of Neil Patrick Harris' hosting gig, you may be in the minority. Penn Schoen Berland recently completed a survey of Academy Award viewers, and found that 71% of viewers who were polled would be pleased to see Harris return as a host sometime in the future. That left the other 29% who said "hell no," or at least said they wouldn't like to see Harris host ever again. Interestingly, a majority of the 29% who didn't like Harris were males under the age of 25.
According to THR, the poll also looked at the popularity of Oscar hosts over the past five years. To refresh your memory, that includes Harris, but also Ellen DeGeneres, Billy Crystal, Seth MacFarlane and James Franco and Anne Hathaway. Of all of those hosts, DeGeneres was the biggest favorite, earning 30% of the vote. Harris also fared pretty well, nabbing 20% of the vote. Overall, it seems people would be happy if either celebrity gave the Oscars another shot.
Granted, the poll was a small one. Of the 36.6 million people who actually tuned in to watch the Oscars, only 360 were polled. Still, the poll did look at people from a slew of different age demographics, asking people as young as 13 and as old as 59 how they felt about Harris and the other recent hosts. If anything, the poll is a good indication of how people really feel when they aren't complaining on social media.
Personally, I thought Neil Patrick Harris' stint as the 2015 Oscars host had its ups and downs. I loved the opening musical number looking at the history of film, a segment that also featured Anna Kendrick and Jack Black. I also loved the Birdman tribute, where Harris nodded at a big scene in the film by getting his robe stuck in his dressing room door and walking onstage in his underwear. Still, the host had his fair share of nervous jokes, and I felt the bit with the magic box fell a little flat.
None of the negatives are too bad for a first-time host, and if Harris were to return, there would be some good news for detractors. Hosts who have done the Oscars more than once—Billy Crystal comes to mind—tend to get more comfortable with running the huge show and keeping the whole thing on track as they gain experience. So if he does come back, great. If not, here's a list of 10 other people we think would do an excellent job.
Your Daily Blend of Entertainment News
Reality TV fan with a pinch of Disney fairy dust thrown in. Theme park junkie. If you've created a rom-com I've probably watched it.