Panic Attack Wants To Help You Conquer Your Fears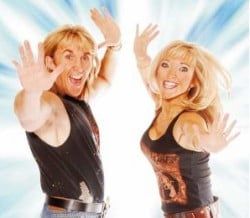 It's like Fear Factor, only they're specifically targeting what you fear the most, and you don't get any money. Panic Attack is a reality pilot commissioned by FOX that has people facing their greatest fears, with the help of a pair of therapists, motivational speakers Nik and Eva Speakman. To make matters worse, they look like they'd be really excitable and annoying.
The series will spotlight one phobia a week, and bring in five people who suffer from it. So one episode would put them all on the roof of a skyscraper so the Speakman's can dangle screaming people over the edges, while another might stick all five in a coffin while the Speakman's lower them into the ground and start throwing dirt on top of them.
Actually, I doubt they're quite that aggressive in their approach. In fact, that would probably only make things worse. Good thing I'm not a therapist.
The problem I'm having with this is if it would get a little boring. Maybe if they tackled different fears within each episode it might help diversify the content a bit. The other problem I have is that this sounds like something that would fit better on A&E or TLC. Maybe if they gave a prize to whomever could withstand their fear the most and made a game show out of it.
Your Daily Blend of Entertainment News
Your Daily Blend of Entertainment News
Thank you for signing up to CinemaBlend. You will receive a verification email shortly.
There was a problem. Please refresh the page and try again.