Parks & Recreation: The 30 Greatest Random Pawnee Side Characters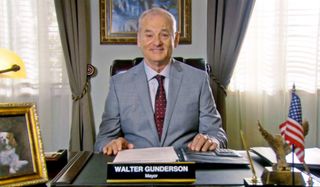 Parks and Recreation is ending. That is literally the worst. During its seven season run, the NBC comedy managed to populate its fictional small-town setting with a host of endearing and hilarious characters. There are so many strange and funny residents walking the streets of Pawnee that it was hard to cut the best of the best down to 30. And that's not even including the series regulars. If they made the show's opening titles - Leslie, Ron, Tom, April, Andy, Ben, Ann, Chris, Mark, Donna or Jerry - then they are not on this list.
Oh, and since it's only Pawneeans, that also excludes terrific supporting characters like Kathryn Hahn's Jennifer Barkley, Patricia Clarkson's Tammy 1, former Indiana Pacers small forward Detlef Schrempf, Peter Serafinowicz' Your Royal Excellency Lord Edgar Darby Covington, 14th Earl of Cornwall-Upon-Thames, 19th Baron of Hertfordshire and the many, many political cameos. Now that all that bureaucracy is out of the way, here are the 30 funniest residents of Parks and Recreation's Pawnee, Indiana...
30. Lawrence Gernway
Lawrence Gernway is one of Ann Perkins' neighbors and a vocal member of the community in the early seasons of Parks. Played by Eric Edelstein, his big moment outside of the public forums was a fight with Andy about how loud the latter was playing Mouse Rat while he was taking a bath in Ann's backyard. In a later episode, we find out that his last name is Gernway while Leslie is out on a date with his dad George. There are a lot of familial connections in the small-town. "Hey, park lady! You suck."
29. Kelly Larson
While some of the residents on the list are recurring like Lawrence, others, like Will Forte's Kelly Larson, are simply memorable guest spots. In the third episode of the third season, "Time Capsule," Kelly shows up at the Parks Department to demand that Stephenie Meyer's 'Twilight' be included in the titular time capsule. When his request is refused, he chains himself to a pipe in Leslie's office. "Hey Leslie, I'm making some sleepy-time tea. Do you want any?"
28. Ingrid de Forest
Even though Pawnee and Eagleton were separate when Parks and Recreation began, they were originally one town and have since merged, so Ingrid de Forest (and any other Eagletonians) qualify for the list of funniest residents. Kristen Bell plays Ingrid, Leslie's snobby but well-meaning Eagleton counterpart, in several episodes and is the source of some really big laughs. "They're a town of angels. Greasy, denim-clad angels but angels nonetheless."
27. Mayor Gunderson
Yep. While it was only one (speaking) scene and just was last week, I couldn't not include a Bill Murray cameo. There are some big names that didn't make the cut but come on, it's Bill Murray. And Parks managed to get the enigmatic comedian in the perfect part, the often discussed yet never seen (well, before "Two Funerals") Mayor Walter Gunderson. He died. "If there's credit to take, I will humbly take it. And if there is blame, it's your fault."
26. Chance Frenlm
Parks and Recreation might have the best character names of any show ever with Chance Frenlm serving as the perfect example. It's not only ridiculous sounding but the Pawneean played by Jeffrey Markle is prone to leading chants at the public forums. Get it? Chance and chants. And what kind of last name is Frenlm? Genius, that's what. "Ham and mayonnaise! Ham and mayonnaise!"
25. Brandi Maxxxx
Somehow Brandi Maxxxx (yes, four x's) turned into one of the sitcom's funniest recurring characters. Pawnee's resident porn-star, played by Mara Marini, is often comparing herself/being compared to Leslie and is usually present during the Parks leading lady's biggest public moments including her first appearance on Pawnee Today and the titular debate in "The Debate." "I had a small part in Argo. As well as the porn version, Our Goo."
24. Crazy Ira and The Douche
This is kind of cheating but I really wanted to get Crazy Ira and Howard 'The Douche' Tuttleman on the list without giving up two spots. I mean, the hilarious 'shock-jocks' are coming in at 24, that should tell you how many funny 'people' live in Pawnee. The titular hosts of 93.7's 'Crazy Ira and the Douche' provide a nice foil for Leslie as their antics, like the radio personalities they're spoofing, tend to lean towards the misogynistic. Plus, we get to hear from the rest of the town during the call-in portion. "18? That's pretty young to be mayor. What were you, like, 12?"
23. Herb Scaifer
One of my favorite parts of Parks is the rich past that the creators have crafted for their small-town, from the troubled and troubling history with the Wamapoke (more on that later) to the period in the 70s when Pawnee was taken over by a cult called The Reasonabilists. The current leader of the 'Zorpies,' Herb Scaifer (played by Robert Pine), makes an unforgettable appearance in "End of the World" (Season 4, Episode 16) and teaches us all about the armageddon predicted in Lou Presodivich's 'Organize it! 2: Engage with Zorp.' "Would you take a check?"
22. Garth Blundin
Thanks to his legendary filibuster, Patton Oswalt's turn as Garth Blundin in the nineteenth episode of the fifth season ("Article Two") is one of Parks and Recreation's most memorable guest spots. When changes to Pawnee's antiquated town charter are put on the table, the historically obsessed Garth comes to their defense and challenges Leslie to a 'living in the past' contest. It's one of the rare instances where the show's protagonist fails to come out on top. "Look at my hoop, Leslie!"
21. Mel
Even though he only has a first name, Mel has been in seven episodes of the series and that means he's provided Parks fans with at least seven huge laughs. Played by comedian Mel Cowan, the irascible Pawnee resident is almost always seen yelling about something, usually at a public forum or, if we're lucky, right in the offices of the Parks and Recreation Department like the time Ron had to deal with a complaint about him yelling at 5 year-olds playing soccer. "No, I'm not. I'm not always up in arms about something!"
20. Carl Lorthner
I imagine that Mike Schur and Dan Goor enjoyed Park Ranger Carl Lorthner as much as I did since they went on to create a show for Andy Samberg once he was done at SNL. And thank god we have Brooklyn Nine-Nine to turn to now that Parks has come to an end. Anyway, Carl makes an appearance in "Park Safety" (Season 2, Episode 19), called in to discuss security after Jerry is 'mugged' in one of the town's parks. Oh, and Carl was moved to an outdoor position because he has a little trouble controlling the volume of his voice. "AFTER THAT I'M GOING TO SHOW YOU THIS LOG I FOUND. IT'S GOT LIKE 50 WORMS ON IT. I CALL IT WORM LOG."
19. Joe Fantringham
This is another perfect example of just how many hilarious residents there are in Pawnee. I can't believe Joe Fantringham, better known as Sewage Joe, is coming in at number 19 since he's incredibly funny every time he's appeared. Played by Kirk Fox, the (eventually fired) city employee has been on ten episodes on Parks and in each appearance he manages to drop a line that competes for the best one that week. "Sweet, someone's got mumps on his lumps!"
18. Ken Hotate
Jonathan Joss' Ken Hotate only had three appearances on Parks but he made all of them count. It certainly feels like the elder of the Wamapoke Tribe was on the show more than that, probably because he became the face of the Pawnee's Native American people and their history with the predominantly white residents has not been great. Remember the map that showed the atrocities committed against the Wamapoke? Yeah. Ken also made a lasting impression because he was a frequent ally for Leslie, using his clout as the owner of the Wamapoke Casino to get her out of a few jam(m)s. "Our Slots are Downright Filthy."
17. Dennis Feinstein
One of the more despicable residents of Pawnee is next on the list. Jason Mantzoukas' Dennis Feinstein is a welcome change of pace from the often overflowing positivity of the main characters. He's a disgusting human being and no one plays that better than Mantzoukas. See The League for proof. He's a successful perfumer (with scents like 'Sideboob') who changed his name from Dante Fiero because the Jewish sounding Feinstein was far more exotic in Pawnee. "Don't talk to Eddie. Treat him like you would treat a person in another country that you've paid $25,000 to hunt."
16. Orin
Of all the oddballs in Pawnee, Orin is by far the oddest. Played to perfection by Eric Isenhower, April's weird friend pops up every now and then to creep Leslie, Ben, Ron... OK, pretty much everyone out. Of course, in a hilarious reversal, Chris' positivity proves too much for Orin and the latter is forced to slink away from their encounter. One of my all-time favorite Parks' scenes is when April takes Leslie to Orin's 'Human Farm.' I have the t-shirt. "I studied zoology in college. And I can control animals with my mind."
15. Pearl
Another person without a last name, Pearl often appears at the public forums to offer his opinion on the subject of the day. And the odd and illogical suggestions that he makes are some of my favorite lines in Parks of Recreation's seven season run. The character is played by the show's consulting producer Mike Scully, who, like Greg Daniels, was also a writer on The Simpsons and another reason the series feels like a spiritual successor to the Springfield set animated comedy. "Why don't we build a fence around their fence?"
14. Officer Dave Sanderson
Officer Dave Sanderson may have moved to San Diego, but he was a resident of Pawnee when we first met the fumbling cop played by Louis C.K. There were actually a lot of funny policemen on the series, so I'll take a second and mention the contributions of Officers Killnose and Skorggel. Those names! Now, back to the Emmy Award-winning comedian; Louis was on Parks for six installments, a five-episode arc in Season 2 that really helped the series find its footing before returning for a guest spot after Leslie had found Ben. "That's not, that information, it's not pertinent at this juncture. I just said to you one thing and you're contritering me."
13. Bobby Newport
The Newport family is one of the oldest and richest in Pawnee, with the Sweetums Candy Factory being a staple of the town and, in the later seasons, frequently an adversary of Leslie's. Of all the Newports (including Jessica Wick), Paul Rudd's Bobby provides the most laughs. Rudd has appeared with his They Came Together co-star on Parks five times, four of them as part of Season 4's wonderful city council campaign plot. "Do you want me to sign that to Ms. Lope or just Nesnie?"
12. Marica and Marshall Langman
Arguably the biggest thorn in Leslie's side over the seven seasons of Parks was Marica Langman. The devout Christian and activist for The Society for Family Stability Foundation played by Darlene Hunt shows up anytime the government tries to accomplish anything that could be seen as progressive. After a few solo appearances, audiences then met her vivacious husband Marshall (Todd Sherry) and the laughs born out of the morality debates more than doubled. "And now this town is a horrifying sex den where people can put their body parts anywhere they want to with impunity."
11. Herman Lerpiss
Like the Newports, the Pawnee Lerpiss family is also an institution in the fictional small-town and everyone of them probably deserves a spot on this list. Instead, I'm going to cheat again and quickly mention Bjorn 'Paunch Burger lover' Lerpiss (Mike Mitchell), Morris 'internet guy' Lerpiss (Joe Mande) and Dennis 'owner of the art-house turned porn video store' Lerpiss (Jason Schwatzman) in the entry devoted to Herman Lerpiss. Richard Burch's character is the owner of the pawn shop who's always wearing sleeveless shirts to showoff his tattoos. "My cousin's got a kick-ass mud pit in his yard, she could watch me do belly-flops. Then maybe we get some Thai food, take a nitrous and see what happens."
10. Perd Hapley
Just listing the names of Perd Hapley's TV shows - Ya Heard? With Perd!, The Final Word With Perd, Lights, Camera, Perd and a news segment called Are You There Perd-verts? It's Me Perd, Hosting a New Segment - makes me laugh, let alone the man in action. Played by Jay Jackson, the Panwee television personality is hilarious each and every time he appears on-screen, whether he's hosting one of those programs or popping up to do the worm for the local telethon. "There is such a thing called journalistic integrity and it is something that I have as a journalist with integrity."
9. Joan Callamezzo
Of the many media figures that make an appearance on Parks and Recreation, I don't think any top Mo Collin's Joan Callamezzo. The host of Pawnee Today has been in eighteen episodes over the series seven seasons, an embodiment of both celebrity and gotcha 'journalism' who often provides a funny forum for Leslie to debate her opponents. Oh, and she's a bit of a train-wreck. Okay, a huge train-wreck. "I'm gonna go powder my nose... amongst other things, if you know what I mean."
8. Harris and Brett
This is a bittersweet entry because Harris Wittels, Parks producer, writer and the actor who plays Harris, passed away last week at 30 years old. The comedian's fingerprints are all over the series as he wrote some of the most memorable episodes and created some of the funniest supporting characters. Brett, Harris' partner in crime at animal control (until they're fired for incompetence), is played by Colton Dunn and the always stoned pair provided audiences with many laugh out loud moments. "My name is Harris. I'm 33 years young, I have my cousin Jason's truck for two more weeks, I have one testicle - Whac-A-Mole accident - and I'm down to clown."
7. Gretel
Gretel is my favorite of all the one-name characters on Parks. Played by Sara Van Horn, she's a resident of Pawnee who's always ready to complain and never satisfied with the solution to her outrageous problem that the Parks and Recreation Department comes up with. When she confronts Ron at his new, rotating workstation and then runs around in circles to try and stop him from ignoring her complaint about waste in the water system is possibly the funniest moment of the entire run. "There are slugs everywhere on the sidewalk in front of my house. I want them gone but not killed, I love animals. But get rid of them. They're gross. But make sure they're happy. But not too happy."
6. Craig Middlebrooks
When Billy Eichner's Craig Middlebrooks was added to Parks, the new character wasn't initially embraced by everyone. But having been a fan of Billy on the Street I was more than happy to welcome his crazy energy to the department. Craig first appeared in "Doppelgängers", which also including guest spots worthy of the list by Sam Elliot (as Ron Dunn) and June Diane Raphael (as Tynnyfer), and filled the funny vacuum created by the then shrinking cast. "Samantha in the boardroom, Miranda in the bedroom. I know it's not ideal but it's who I am! This is my friend Madison, she's amazing and she drove me here!"
5. Barney Varmn
When I started thinking about a list of the funniest Pawneeans, Barney Varmn was the first character that came to mind. Played by John Balma, the accountant with a thing for puns, and an even bigger thing for Ben, makes me laugh harder than perhaps any other character on Parks. I'm always happy when the show pays a visit to Tilton and Radomski Accounting. Probably because Ben is my favorite character and they treat him like a king. "...and that concludes a quick look at QuickBooks Pro."
4. Ethel Beavers
She didn't show up on Parks and Recreation until the third season but Helen Slayton-Hughes as Ethel Beavers has stolen every scene she's been in since. The elderly court stenographer (and office manager on the dreaded fourth floor) has been around for some of the sitcom's biggest moments, including the first time Leslie and Ben said "I love you," and has already done a great guest spot on Schur and Goor's B99. Again, they must love her as much as I do. " I was on a date tonight. It went well. He's sleeping over."
3. Councilman Jeremy Jamm
Another late-comer to Parks and Recreation, Jon Glaser's Councilman Jeremy Jamm made an immediate and lasting impression. Plus, his inclusion on the list of funniest residents of Pawnee allows me to once again cheat and also mention Councilmen Dexhart (Kevin Symons), Milton (James Greene) and Howser (Yvans Jourdain), all of whom provided a lot of laughs. Jamm was the one to actually make the cut because Glaser does an incredible job playing the desperate jerk who's Leslie main adversary (and, according to him, BFF) for Seasons 5 and 6. "The voters, to use a political term, gave you the stanky boot."
2. Tammy '2' Swanson
The second funniest resident of Pawnee, Indiana is Tammy Swanson Swanson aka 'Tammy 2.' Played by Megan Mullally, Nick Offerman's real life wife, the sex-crazed Librarian is a bonafide scene stealer. Whether she's corrupting Ron or doing battle with the rest of the department over Ron, Tammy 2 is a force of nature that sweeps through Parks every now and then to shakes things up. And provide plenty of laughs. "Actually, I prefer the number 69 train to Humpsville station."
1. Jean-Ralphio Saperstein
This wasn't easy. When I started there were 75 names on this list. 75! And after careful deliberation, I came to the conclusion that the funniest Pawneean is Ben Schwartz' Jean-Ralphio Saperstein. Especially, since I'm using only one entry to also mention his sister, Mona-Lisa (Jenny Slate), and his father, Dr. Saperstein (Henry Winkler), both of whom are hilarious in their own right. Jean-Ralphio is a character one could easily hate or find annoying but the writers and Schwartz managed to make him oddly lovable. It's the little things, like his boundless enthusiasm for anything Tom suggests and the way he can't help but add an extra word after the rhyme in his raps. "Tommy T! You just missed the craziest of crazies. Clubs. Girls. Dancing. Naked. Mom!? Argument. Police. Fleeing the scene. Hiding in a dumpster. Crashing on your couch for a week because technically I'm homeless. Hey, Mustache."
Your Daily Blend of Entertainment News
Thank you for signing up to CinemaBlend. You will receive a verification email shortly.
There was a problem. Please refresh the page and try again.