Kristen Bell Is Headed To Pawnee For A Guest Spot In Parks And Recreation Season 6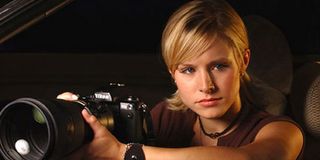 Earlier this year, Parks & Recreation's Mike Schur admitted that he and his writing staff come up with an end to the show "every three months" due to NBC's reluctance to renew the series unless it is at the zero hour. Well, Season 6 is set to premiere on September 26th (with an hour long episode) and is wasting no time in bringing in some recognizable guest stars to help out the season, including House of Lies' and Veronica Mars actress Kristen Bell.
Entertainment Weekly reports that Bell will guest star as as Ingrid, a snooty City Councilwoman from Eagleton, once she finishes shooting the Veronica Mars movie. ""She's Leslie's (Amy Poehler) equivalent, but richer and better dressed," Schur told EW. Apparently, the episode revolves around the annual Pawnee-Eagleton high school basketball game, and likely will bring out the worst in Leslie, who dislikes anyone from Pawnee's rival city. For an example of Leslie's feelings about the city, check out a clip from a Season 5 episode "Pawnee Commons."
In fact, Bell's upcoming episode might play a little like one that aired during Parks & Recreation's third season, appropriately titled "Eagleton," where Leslie gets angry with her former best friend Lindsay Carlisle Shay (Parker Posey), who runs the Parks Department in Eagleton. When Lindsay puts a fence up between a park the two towns share, Leslie sought revenge, as seen in the below clip.
Bell is no stranger to the Parks & Rec cast, having worked with Adam Scott on Party Down (and Veronica Mars) and Ben Schwartz, who plays recurring character Jean-Ralphio, the best pal to Tom Haverford (Aziz Ansari) and co-founder of the failed Entertainment 720, on Showtime's House of Lies. Bell's episode is set to debut in early October, and will hopefully will lead to more appearances, unlike Posey's episode, which never led to further guest star appearances. Meanwhile, Bell is also shooting the Veronica Mars movie, which still has no release date after the movie enjoyed a highly-successful Kickstarter campaign and found that fans were more than willing to fund the movie version of the cult show.
Your Daily Blend of Entertainment News
Your Daily Blend of Entertainment News
Thank you for signing up to CinemaBlend. You will receive a verification email shortly.
There was a problem. Please refresh the page and try again.