Parks And Recreation Watch: Season 5, Episode 7 - Leslie Vs. April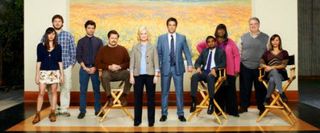 Leslie meets an impressive match this week in two faces, April Dwyer and Joe Biden.
Leslie's dream man has always been Joe Biden and this week's cold open puts them in the same room together and amazing things happen. Ben pulls all of his favors to get Leslie in a room with Biden and Poehler is incredible as a giddy little school girl meeting her celebrity crush for the first time. Biden plays the moment perfectly as she weirds him out slowly and adorably and it's about as perfect as this moment could have been.
It is April who poses a real match though for Leslie as she tries to get the old lot behind Anne's house turned into a dog park. This lot is Leslie's baby though and it is funny to see her so protective over a filled in hole in the ground. This story is also the possible beginning of a new April and it is great that the writers are able to make her a more competent and stronger professionally while maintaining her awkward sense of humor. The ladies are ultimately swindled by Councilman Jamm who has his own plans for the plot (this story is to be continued), but the ultimate standout of this storyline is Oren's Human Animal Farm. What an insane and bizarre bit of imagination this performance art is and the hilarious and weird creation is probably the highlight of the episode. The more Oren the better if you ask me.
Ben and Tom spend the episode trying to get Tom's new company off the ground, but it is Ben getting all of the attention. Everywhere they go Ben is getting offers to work for the company and it is a surprisingly advantageous time to be Mr. Wyatt. Getting out of the political game is a big step for Ben and it is nice to see that the show is giving him options now that he has decided to stay in Pawnee. Tom's company on the other hand can't catch a break and it is interesting that he is finding success with his friends and not with the public. Building Tom's trust up with his friends is an interesting premise for the show though and I am intrigued where his clothing line for middle schoolers is taking him. Oh, and Tom's nickname for Chris and Ben, Looks and Books, is fantastic.
The weak story of the week was unfortunately surrounding Andy and his attempt to find his missing computer. His lame idea that one of his co-workers stole it to test him exposes Andy as not being quite cut out for the police force and it is interesting they are going to course correct Andy's future after not really doing anything with the police thing. While the plot doesn't really bring a whole lot to the table we do get some funny interactions between Chris and Andy, but both of these characters are rather lost right now in their futures on the show. Andy has been a standout almost every episode this season, but this was the weakest entry for him so far this season. Also, not a lot of Ron Swanson again this week.
Parks & Rec stays solid again this week, but again fails to fire on all cylinders which has been hard to come by so far this season. Every episode doesn't have to be an absolute winner and this week's episode isn't a failure by any means, but I am still waiting to be absolutely blown away by an episode a third of the way through the season. The Biden scene will be a highlight of the series and the characters continue to grow even if all of their paths aren't terribly clear right now, but I will still take this show in a transitionary period over most any other sitcom on TV.
Random Ramblings:
-Joe Biden!
-"There is no way I could take Madame Secretary Clinton's."
-"You don't let anything happen to him, you understand me! He's precious cargo."
-Poehler has rarely been better than with Mr. Biden.
-"Municipal Bond."
-Books and Looks.
-"Un-fun fact."
-A dog park in an active parking lot.
-Please let us see Oren's performance art.
-Bringing back the old Lot 48.
-"There's already a dog here."
-"Well, I tried to be reasonable."
-"God, he's good."
-Mulch Ado About Nothing."
-Human Farm!
-That chicken is creepy as hell.
-"Resulting in a slow moving ecological disaster."
-Poor, Gary.
-April is three steps ahead of Leslie.
-"No, you are."
-"Did what?" "Don't play stupid and handsome with me."
-"You just got Jammed."
-"It is a dick move."
-What is Chris doing in that workout?
Your Daily Blend of Entertainment News
Thank you for signing up to CinemaBlend. You will receive a verification email shortly.
There was a problem. Please refresh the page and try again.