Partners Review: Kelsey Grammer And Martin Lawrence Team Up For Law & Humor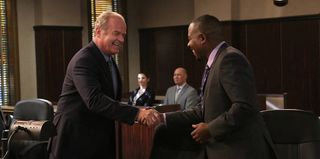 Comedy is all about timing, and that's especially true for the rhythmic humor found in a well-constructed multi-camera comedy. Martin Lawrence and Kelsey Grammer have proven adept at good timing and comedy, so the idea of the two actors paired up in a new series is brimming with potential. FX's Partners taps into some of that, but doesn't really bring anything new to the table.
Executive produced by Bob Boyett and Robert Horn, Partners -- not to be confused with CBS' cancelled sitcom by the same name -- stars Martin Lawrence and Kelsey Grammer as two attorneys with very different codes of ethics, whose paths cross right as both of them are amidst major life changes. Grammer's Allen Braddock is an elitist attorney who has just been fired from his father's firm. Lawrence's Marcus Jackson is amidst a divorce and his ex-wife is trying to take him for everything. With Allen facing a number of pro-bono cases he doesn't want, and Marcus is in need of an attorney who will protect his interests, a partnership is inevitable. Rounding out the cast are Telma Hopkins, Rory O'Malley, McKaley Miller, Edi Patterson and Daniele Watts.
The premise works well enough, with Grammer playing up the hotshot lawyer act, while Marcus is more of a community activist whose moral code contrasts drastically with Allen's lack of scruples. And there's humor to be mined there. What's more, the dynamic between Lawrence and Grammer is about as great as we might hope for, as both seasoned sitcom stars sit comfortably in their respective roles, both as a duo and individual characters. These guys are doing what they do best, and that in itself is reason enough to give Partners a look.
On humor, Partners is a bit inconsistent, and it lacks much of an edge, which is disappointing. Beyond that, the stories that play out in each episode aren't particularly original. In "They Come Together," Allen assists Marcus in his divorce settlement, which involves taking a closer look at Marcus' wife's personal and professional life. It's impossible to miss the fact that Marcus's wife isn't actually in the episode, despite playing such a crucial role in the story. Perhaps they' decided to hold off on casting that role until later, and it may be an opportunity for a great guest spot.
"The Come Together" focuses itself on introducing us to the two leads and setting up their working relationship and potential friendship. In that respect, it works fine, and while there's room for improvement, it also shows potential for a solid buddy-comedy/workplace-ish sitcom, where both Marcus and Allen's family members (a stepdaughter for Allen, a mother and daughter for Marcus) pop up now and again.
In "Let's Have a Simple Gwedding," Marcus and Allen work together to expose the truth about a potentially shady high-end wedding coordinator who may be misleading her same-sex couple clients. In an effort to uncover the truth about the situation, Allen and Marcus pose as a same-sex couple in need of a wedding planner. It's goofy and there are a few chuckles, but I'm not sure Partners really elevates itself beyond being a decent sitcom, at best. This is not to say that it won't in time.
Factoring in the premise and the stars, I look at Partners and wonder how this story and its cast might have worked as an hour-long legal dramedy, in the vein of something USA might air, rather than a half-hour laugher.As a sitcom, at the very least, Partners has an opportunity to push the line with its humor, beyond the kind of jokes we might see from a similar comedy over at CBS. Partners barely approaches the line, which is a shame. Two episodes didn't sell me on this series, but Grammer and Lawrence's involvement, and the interesting dynamic that's developing between their characters offers enough reason to reserve final judgment for at least another episode or two to see if the series settles in for the better.
With that said, FX has a big decision to make. Like Anger Management, another Lionsgate Television multicamera comedy, Partners is working with a 10/90 model, which means FX has ordered ten episodes. If they decide to renew it beyond that, it's another 90 more to come.
Your Daily Blend of Entertainment News
Thank you for signing up to CinemaBlend. You will receive a verification email shortly.
There was a problem. Please refresh the page and try again.