Patricia Clarkson Cast As Ron Swanson's Tammy 1 On Parks And Recreation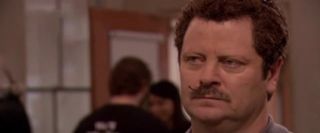 The last time we saw the people of Pawnee on NBC's Parks and Recreation we were treated to a brief glimpse of Ron Swanson's first wife, Tammy 1. We've already met Ron's second ex-wife, Tammy 2 (obviously), and even she's scared of the original ex. The finale kept the infamous character hidden, much like a Bond villain before the big reveal... well, the big reveal is now.
TVLine's sources say that "Patricia Clarkson has nabbed the coveted role of Tammy 1, the much-feared first ex-wife of Nick Offerman's Ron." Personally, I think this casting choice is pretty much perfect and far superior to the much bandied notion of Oprah Winfrey stepping into the inevitably fun role. Clarkson is an Academy Award nominated actress and a true chameleon and I'm certain she can go toe to toe with Megan Mullally's Tammy 2, or anyone for that matter. Mullally is Nick Offerman, the man who plays the man Ron Swanson, real wife and the two are hilarious together on screen.
This is not Patricia Clarkson's first rodeo when it comes to television. She had an extended part on Alan Ball's incredible Six Feet Under, a five episode love interest arc on Frasier and also appeared in the bulk of the police/law procedural Murder One. I'm a huge fan of her work, although every time she's mentioned the first thing I think about is her role in The Green Mile, don't ask me why.
According to the article, Clarkson is scheduled to appear in two episodes, beginning with the show's fourth season premiere on September 22 at 8:30 p.m. ET on NBC.
Parks and Recreation has developed into one of the finer comedies after what was a painfully bland and off-putting first season. To those that gave up (or never tried) I really recommend giving this series a shot. The additions of Adam Scott and Rob Lowe to the already wonderful cast of Amy Poehler, Aziz Ansari, Rashida Jones, Chris Pratt and Offerman made Season 3 one of the more enjoyable sitcoms last season.
Your Daily Blend of Entertainment News