Paula Abdul Is Also Reportedly Done With The X Factor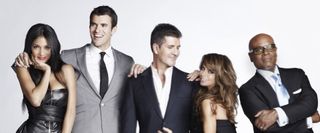 With three eliminations, only two are left to move forward in the second season of the U.S. version of The X Factor... If only we were talking about contestants. In less than twenty-four hours, reports have been circulating that in addition to host Steve Jones making his exit from the Fox singing competition series, Paula and Nicole are also reportedly out.
While no official word from the network has been released yet, reports are circulating of some drastic, though not entirely surprising changes are being made to The X Factor. Host Steve Jones tweeted that he would not be returning for Season 2. And then came reports that judge/mentor Nicole Scherzinger was bowing out, looking to spend more time working on her music. And now it seems Paula Abdul is done with the series as well. The sources for the latter two exits are unnamed, but EW states that sources near the show confirm that Jones, Scherzinger, and Abdul are all out.
While Jones and Scherzinger's exits aren't entirely surprising, Paula Abdul's departure feels a bit less expected, given her longstanding working relationship with Simon Cowell, whom she judged alongside for years on American Idol. Whether leaving was her choice or came down from above is unknown at this point. The series definitely has some work to do to tighten up its format and hopefully improve on its concept between seasons. Assuming all of this shuffling around is official, it'll be interesting to learn who is brought in to replace the two judges and the host.