Paula Deen Fired From Food Network After Racism Controversy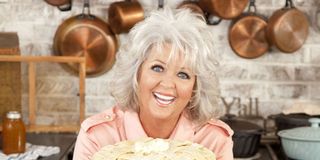 The world may not have been shocked when veteran southern comfort cook Paula Deen was diagnosed with diabetes, but many were shocked a few days ago when a transcript from a recent court deposition leaked, in which Deen admitted she had used the N-word on numerous occasions and in numerous settings, including the workplace. As it turns out, admitting this has cost the chef her high-profile food network job.
Back in May, Deen was deposed as part of a $1.2 million dollar lawsuit that alleged the chef used foul and inappropriate language in the workplace, which made it difficult for one of her employees to want to be at work. During the course of the deposition, Deen admitted she had used the N-word on an occasion when an African American male had held a gun to her head during a bank robbery in 1986 and in other times in her life, although she could not recall other specific instances. On another poor note, she also admitted she wanted to hire African American waiters to pose as slaves for a wedding. This is not the best news to come out right before the chef was set to sign a new contract.
On Friday, Food Network announced that the channel will not be renewing its contract with Deen when her current agreement ends. That change will happen very soon, since the TV personality's contract expires at the end of June. Earlier in the week, the network made an announcement noting it would be "monitoring the situation," but apparently with all the brouhaha the publicity has caused, the network felt it was a better idea to let the household name go. According to CNN, Deen had nothing but nice things to say about the Food Network, thanking them for 11 "great years."
Though that seems like a fairly gracious response to being let go, the cook and author has not been handling the publicity during the controversy particularly well. Deen has been a good friend of Today in the past and was set to address all of the rumors during a one-on-one interview with Matt Lauer this morning. Instead, she backed out at the last minute. The morning host later expressed shock about the event via Twitter.
Eventually, Deen released an apology video about backing out of that interview, which can be viewed, below.
All in all, it hasn't been the best couple of years for Deen, thanks to having to deal with her diabetes diagnosis, face the controversy related to years of unhealthy cooking, and then be slammed by racist comments. It doesn't seem as if Deen has always been politically correct or chosen her words carefully, but it doesn't seem as if the veteran chef has ever harbored ill will toward anyone. As the apology notes, she seems to want to learn from her mistakes, and maybe her removal from the Food Network will give her the opportunity to do so.
Amazing Race & Top Chef superfan with a pinch of Disney fairy dust thrown in. If you've created a rom-com I've probably watched it.
Your Daily Blend of Entertainment News
Thank you for signing up to CinemaBlend. You will receive a verification email shortly.
There was a problem. Please refresh the page and try again.