Pawn Stars Danny Koker Gets His Own Show On History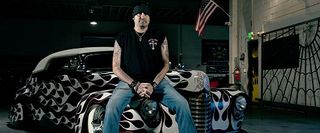 History channel is giving the Las Vegas car flipper who regularly pops by their series Pawn Stars a show of his own. Danny "The Count" Koker will get to do what he does best for the cameras – find, restore, and flip cars for profit. The show will follow the restoration and modification of a wide range of classic cars.
The Hollywood Reporter says Koker's new show, Counting Cars will premiere in only a few weeks; they'll air the show two days in a row, premiering on Monday August, 13th and then again the next night at 10. The Tuesday time slot will be its regular place on the schedule. Each week a new vehicle will be featured, as Koker locates a classic car or motorcycle that can be quickly restored, brings it back to life along with his team, and then works on making a deal to sell it quickly.
Koker, who has gained some fame through appearances on History's hit Pawn Stars, will have to show that both he and what he does are interesting enough to carry an entire series. The show does seem to fit right into the direction History channel has been taking in recent years, which has mainly been to move away from anything historical and into reality series like Ice Road Truckers and Swamp People, shows that focus on people doing odd, dangerous, and interesting jobs. This addition seems to fit pretty well into that lineup, although flipping cars doesn't really have the same level of danger as some of the other shows. The show will have to draw its tension from other sources, and it's definitely the kind of series where personality plays a big role – good thing Koker has plenty of personality.
Your Daily Blend of Entertainment News
Thank you for signing up to CinemaBlend. You will receive a verification email shortly.
There was a problem. Please refresh the page and try again.